Water: Smart hand pumps send texts if they break
Britain is supporting a breakthrough in text message technology to help tackle water shortages in drought-affected Africa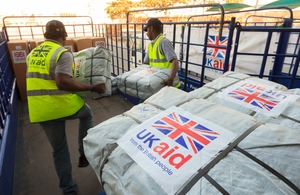 Thousands of families affected by the on-going drought in East Africa are set to benefit from improved water supplies, thanks to innovative mobile technology from Oxford University.
The 'Smart Handpumps' project - backed by the UK Government - sees the hand pumps automatically 'text' local water engineers when water pumps break down or run dry.
Water pumps are the main source of drinking water in Africa's poverty stricken rural communities but around one-third of them do not work at any given time.
Isolated by their rural location it can take up to a month for the water pumps to be fixed leaving entire communities without any drinking water.
The data transmitters in the 'Smart Handpumps' will dramatically speed up the response by making water officials aware of when and where there is a problem, as well as when it has been fixed.
The UK government has announced that it will back the pilot of 'Smart Handpumps' in Kenya as part of a drive to back innovations that make aid work harder and go further in addressing longstanding problems.
The Oxford researchers will roll-out the technology in August to 70 village hand pumps across Kyuso district, an area which commonly experiences droughts. It will be the first place in the world to use this new mobile technology to improve the functionality of its hand pumps. It also has the potential to provide a reliable, lasting source of clean water for the poorest communities.
Lack of reliable access to clean water is an enduring problem in rural Africa. Yet mobile technology in Africa is booming: the number of people within range of a mobile signal has already overtaken the number with an improved water supply and, this year, the number of people with a mobile subscription will pass the same benchmark.
Secretary of State for International Development Andrew Mitchell said:
This is a fantastic example of British innovation helping some of the poorest people in the world. Water does not just save lives in the short term - it is also a cornerstone for delivering economic growth and helping countries to work their way out of poverty.

That is why the UK will help more than 60 million people get access to clean drinking water, hygiene and proper sanitation over the lifetime of this parliament.
Lead researcher Rob Hope, Senior Research Fellow at the School for Geography and the Environment, said:
Reliable water supplies lead to healthier people and more productive livelihoods. We hope that by applying mobile communications technologies within the rural water sector, we can improve water security and reduce poverty for the 276 million people in rural Africa without safe and reliable water supplies.
The number of rural Africans lacking access to a safe water supply has increased by 38 million people between 1990 and 2010, according to the United Nations Joint Monitoring Programme.
Of the 783 million people without safe water access, four out of five people live in rural areas. If the pilot is successful, there is potential for the technology to be rolled-out across rural areas of developing countries.
The Smart Hand pumps project is a DFID-funded initiative that seeks to design, test and evaluate innovative applications of mobile communications technology to achieve water security and reduce poverty for those most in need and most difficult to reach.
Published 8 June 2012