Water: DFID research finds huge reservoirs under Africa
New research funded by UK aid has revealed huge resources of groundwater that could give millions of people safe water to drink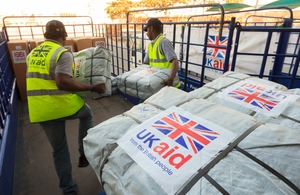 New research funded by UK aid has uncovered huge stores of groundwater in Africa - a vital resource that could give millions of people across the continent access to safe drinking water.
Across Africa over 300 million people don't have access to safe drinking water. But today's findings show the volume of water available underground is 100 times the amount found on the surface - water which could be tapped to meet the need.
The DFID-backed team behind the study have produced the most detailed maps yet of the scale of this hidden resource, such as the flow of groundwater (below).
Infographic: Groundwater flow in Africa - known as aquifer productivity
Demand for water is set to grow in the coming years due to population growth and the need for irrigation to grow crops.
Through this study, the researchers have been able to carry out a continent-wide analysis of the water available for the first time.
The maps produced by scientists from the British Geological Survey and University College London (UCL) show in detail the volume and flow of water through "aquifers" - water that has built up between the gaps in the underlying rock found beneath the soil's surface.
The research was commissioned by the Department for International Development to understand how groundwater can be used as a key asset to support adaptation and resilience to climate change among African communities.
Secretary of State for International Development Andrew Mitchell said:
This is an important discovery. This research, which the British Government has funded, could have a profound effect on some of the world's poorest people, helping them become less vulnerable to drought and to adapt to the impact of climate change.

In the meantime, the Coalition Government will help millions more people access clean water supplies
The paper - called Quantitative maps of groundwater resources in Africa - was published today. It is one of several studies due in the coming months as part of a wider research programme into climate change and groundwater resources.
The work is designed to help understand the impact climate change will have on local communities in the years to come, and how African countries can best adapt their use of water resources to cope with the changes ahead.
Find out more on the Research for Development website at
http://www.dfid.gov.uk/r4d/Project/60826/default.aspx
Published 20 April 2012