Water and sanitation: UK to double its support
Britain will help more than 60 million people get access to clean drinking water and proper sanitation over the lifetime of this parliament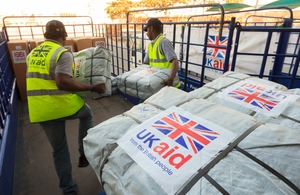 Britain will help more than 60 million people get access to clean drinking water and proper sanitation over the lifetime of this parliament, International Development Secretary Andrew Mitchell announced today.
Britain's increased support will more than double the commitment it made last year to reach people in the poorest countries most at risk from poor sanitation or waterborne diseases, many of which are in fragile or conflict-affected states.
Video: Andrew Mitchell announces Britain's increased support for water and sanitation at the High Level Meeting in Washington DC
Every hour, 167 children die from diarrhoea, the vast majority of these deaths due to lack of access to safe water and sanitation. The UK believes much more support for developing countries is needed to stop further deaths and is playing its part in the new global momentum to tackle these issues.
The dramatic scale-up follows a comprehensive review of Britain's work on water and sanitation. The review underlined that, while last year's ambitious targets were on track to being met, there are nearly 800 million people without access to clean water and two and a half billion without decent sanitation.
Launching the new commitment at the Sanitation and Water for All High Level Meeting in Washington D.C., Andrew Mitchell called on the international community to stop neglecting water, sanitation and hygiene and join Britain in making it a critical priority.
Secretary of State for International Development Andrew Mitchell said:
Waterborne diseases are a leading cause of death in children under five in Africa and girls are less likely to go to school and receive the education to pull them and their communities out of abject poverty if there are no sanitation facilities

For too long, water and sanitation has not received the priority it deserves from the international community. But we know that without clean water supplies and proper sanitation, we will never help developing countries stand independently and thrive.

The Coalition Government will now help over 60 million people access basic services such as pit latrines, and communal water pumps. The UK will work with the private sector, NGOs and other governments to design innovative new projects.
The UK targets water and sanitation aid to the people who need it most in the poorest countries. The UK will continue to maintain this ambition, while calling on partners in the international community to scale-up their support and better target resources.
Published 20 April 2012