World news story
UK supportsTunisia's national public service broadcasting
FCO funded Watania TV news department on a 3 days study tour to London and Edinburgh.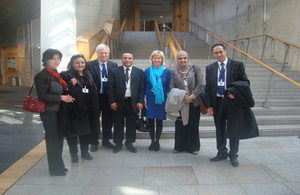 At the end of March, BBC Media Action organised a 3-day study tour to Edinburgh and London for four Tunisian National TV (Watania) news managers, as part of the FCO-funded programme of work supporting public service broadcasting. This was an opportunity for Tunisian news managers to see the newsroom structure and operations at the BBC, to speak to BBC staff and critically engage with the BBC's experience and to reflect on Watania's ways of working. It also gave insights into coverage of elections and political issues, at a time when Tunisia is preparing for forthcoming elections.
During the tour, Watania staff visited Scottish and UK Parliaments and discussed the broadcasting process there. Key editorial staff talked about planning and preparing for the Scottish referendum, including plans for a media village for different broadcasters covering the referendum. The group also visited BBC Broadcasting House in London, a site that provides public service broadcasting to over 10 million people across the UK at any one time and to a worldwide audience of more than 150 million every week. Here staff met with various teams across the BBC, to share experiences about newsroom structures and workflow, online news content, social media and graphics for the news and preparing for elections coverage.
Issues raised provided stimulating discussions, for example on dealing with external party pressures when covering elections and how to deal with complaints from audiences and governments. The learnings from the tour will continue to be built on through BBC Media Action's ongoing support to developing TTV's capacity to deliver high quality public service news content, made possible by FCO funding.
Further information
Contact the Arab Partnership team
Stay informed, like our Facebook page and follow us on Twitter.
Published 16 April 2014