Press release
Waste industry growth summit to create UK investment
Owen Paterson is meeting investors, bankers and entrepreneurs today to discuss how to improve growth and investment in waste and recycling.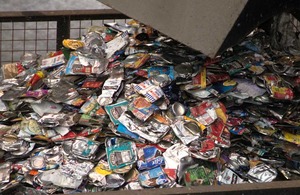 Investors, bankers, asset financiers and entrepreneurs are meeting for the first time to discuss how to improve growth and investment in the waste and recycling industry at a summit hosted by Environment Secretary, Owen Paterson today.
The waste and recycling sector currently generates over £12bn per year in the UK and employs over 100,000 people. It is expected to grow by 3% per year and that is why government and industry representatives are coming together to look at ways to invest in the waste and recycling industry and boost the economy.
Secretary of State, Owen Paterson said:
There is a huge global market in waste and recycling and I want to see UK businesses leading the way on this.
Dealing with waste and recycling properly is good for business as well as the environment and has the potential to boost economic growth and create jobs.
To make it happen I want to break down the barriers businesses face to ensure they can compete and lead in the global race.
Every year, more than £5bn worth of recycled material is sent abroad for processing instead of being handled in the UK. The amount of material being recycled more than doubled between 2000 and 2010 and for the first time more waste is being recycled than going to landfill in England – it is absolutely vital that the UK has the capacity to deal with this growing industry in the future.
Chief executive of WRAP, Dr Liz Goodwin, said:
A resource efficient economy offers substantial growth opportunities for UK businesses, so investment in the sector needs active encouragement through industry engagement.
WRAP has years of experience working with investors in this sector, and the Investor Symposium offers industry leaders a vital opportunity to discuss the challenges and solutions to unlock economic growth.
William Mainwaring, co-founder and CEO of Vertech and Sicut Enterprises Limited, said:
The Investor Symposium offers a much needed forum for the wide range of leaders in the resource management sector to discuss innovations, opportunities and challenges.
As a manufacturer, we are particularly keen to meet with stakeholders from other disciplines and to share thoughts on how to collectively seize the significant opportunities within the sector while overcoming the barriers to growth, particularly investment in small businesses.
Published 22 May 2013