News story
Waste contract signals Dounreay's community commitment
Amec Foster Wheeler has been awarded a contract to design and build a new effluent treatment plant at Dounreay.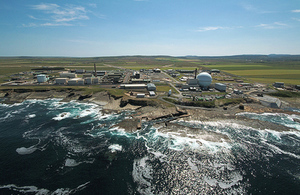 The agreement signals a landmark move for the Caithness site as the first to incorporate socio-economic commitments following the introduction of a new procurement policy earlier this year.
Head of Commercial, Stephen Adamson, said: "As a major employer in the area we take our responsibility to support the future of our community seriously. New guidelines, introduced earlier this year, ensure that our biggest suppliers think about how they can help contribute and we are delighted with the way the supply chain, including Amec Foster Wheeler, has responded."
The work, worth up to £7 million, is expected to begin as early as next year with the plant set to support the retrieval, processing and packaging of waste from the site's shaft and wet silo areas.
Andy White, Vice President for Decommissioning at Amec Foster Wheeler, said: "We share Dounreay's commitment to the development of communities where we work. We will be engaging the local supply chain to deliver major aspects of this contract as well as offering subject matter experts to support local education programmes and secondment opportunities for Dounreay graduates to gain experience within Amec Foster Wheeler."
Once the United Kingdom's centre of fast reactor research and development, Dounreay is on an ambitious journey to deliver one of Europe's most complex nuclear closure programmes. The skilled workforce is delivering a varied programme incorporating construction, demolition and waste management projects. Its mission is to return the site to as near as practicable its original condition.
Published 26 September 2016