World news story
Warzone rape must never slip off the international agenda again
UK Foreign Secretary and Angelina Jolie lead the G8 in announcing historic new measures to tackle sexual violence against in conflict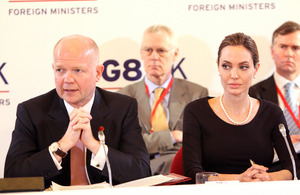 Foreign Secretary William Hague, Special Representative of the UN Secretary General on Sexual Violence in Conflict, Zainab Hawa Bangura and Special Envoy of UN High Commissioner for Refugees Angelina Jolie spoke at the launch of the G8 Declaration on Preventing Sexual Violence in London on the 11th April.
UN Special Envoy Angelina Jolie said :
For too long [survivors of rape] have been the forgotten victims of war: responsible for none of the harm, but bearing the worst of the pain. But today, I believe, their voices have been heard, and that we finally have some hope to offer them.
In addition to the Declaration William Hague, announced an additional £5 million, from the Foreign and Commonwealth Office and Justine Greening announced £5 million from the Department for International Development, to support UK efforts to tackle sexual violence in conflict and violence against women and girls (VAWG). £23 million in new funding towards this effort from different countries was also announced to support grassroots and human rights projects on sexual violence in conflict.
The G8 also committed to the development of a comprehensive International Protocol on the Investigation and Documentation of rape and sexual violence in conflict and declared its support for the deployment of international experts to help build up the judicial, investigative and legal capacity of other countries in this area. The UK has already set up a team of over 70 experts including doctors, forensic scientists, police and gender experts which has already been deployed to Bosnia, the Syrian border and to Libya.
Speaking after the G8 Foreign Ministers' meeting William Hague said:
Today we know the facts about sexual violence in conflict, and we have the means to address it. So we in Britain will not look away or rest until the world faces up to its responsibilities to eradicate this violence. This Declaration is a milestone in that effort, and a turning point in our collective history.
Further Information
Read the G8 Foreign Ministers' meeting statement
Read the G8 Declaration on Preventing Sexual Violence in Conflict
UK announces additional funding to address conflict sexual violence
Find out more about the G8 Foreign Ministers' Meeting on Storify
Read more about the Preventing Sexual Violence Initiative
More information on the Preventing Sexual Violence Initiative at our tumblr
Published 17 April 2013