World news story
Warsaw's Deputy Head Of Mission presents a prize at Poland's 2nd FameLab final
Gill Atkinson presented the audience award at the second edition of FameLab in Warsaw on 11 May.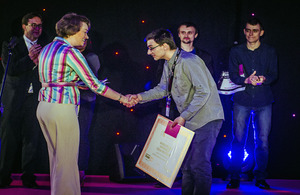 The event was held in the Copernicus Science Centre in Poland and featured 10 young Polish scientists. The winner – Maciej Stolarski - was selected by the jury composed of an astrophysicist Prof. Marek Abramowicz, Deputy Director of the Copernicus Science Centre Jacek Wasilewski, science populariser Irena Cieślińska and journalist Piotr Najsztub. Monika Koperska, the winner of last year's Polish edition, was also a member of the jury.
FameLab is a competition for researchers with an aim to promote science. Each of the contestants had three minutes on stage to acquaint the audience with a case from their field of interest. The most important elements included providing clear arguments and presenting them in an attractive way, but without using multimedia equipment. The participants could use any prop they like providing that it fitted on stage.
The audience award went to Piotr Konieczny. He received his prize – a British Council-funded English course or the possibility to take an exam for an English language certificate free of charge - from Gill Atkinson, Deputy Head of Mission, British Embassy Warsaw.
Published 13 May 2013