The Ministry of Justice is issuing a warning to the public after an increase in scams where consumers are telephoned or emailed by people falsely…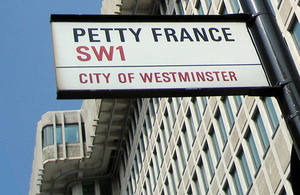 The Ministry of Justice is issuing a warning to the public after an increase in scams where consumers are telephoned or emailed by people falsely claiming to be from the Ministry of Justice.
Scammers trick members of the public by suggesting to the person they're calling that they could be owed money - often for repayment of bank charges, payment protection insurance (PPI), or a court settlement - but first ask for an up front payment from the consumer in order to enable them to receive the money.
These callers have no connection with the Ministry of Justice, HM Courts & Tribunals Service, or other genuine organisations. Fraudsters have already tricked and harassed some victims into handing over thousands of pounds, only for them to find that the call was a fake. The Ministry of Justice would never contact consumers asking them for personal bank details, or request an up front payment by money transfer.
The Ministry of Justice is warning consumers not to pass on personal or financial details to such callers. If you have already done so, contact your bank immediately to stop or check any unauthorised transactions. Do not transfer money unless you are absolutely confident the company is legitimate. If you believe you have been a victim of this scam please report the matter to Action Fraud on 0300 123 2040. They will pass your reports to the National Fraud Intelligence Bureau who analyse fraud information with a view to passing it to the police for further investigation.
Justice Minister Jonathan Djanogly said:
'These are callous fraudsters who target people they believe are vulnerable to scams, often seeking out those who might already be struggling with debt. While their frauds are becoming increasingly sophisticated, remember that the Ministry of Justice and other genuine organisations will never approach you asking for financial information or money transfer payments.
'I would urge the public to be on their guard and not to hand over any money until completely confident a company is legitimate, and to contact the authorities immediately if they are concerned. The simple rule remains: if a call like this comes out of nowhere and seems too good to be true, there's a good chance it could be scam.'
The City of London Police is the police service lead for economic crime. Head of the force's Economic Crime Directorate, Det. Ch. Supt. Oliver Shaw, said:
'Fraudsters will tell you anything to get their hands on your cash. They think nothing of using the names and logos of legitimate organisations to convince you to hand over your money. I would urge anyone receiving cold calls or emails purporting to come from the Ministry of Justice, to think very carefully before handing over money or sharing personal details. If you receive any suspicious calls or emails, report them to Action Fraud and help us to close down these criminal operations.'
The bogus callers often ask for personal financial information such as bank account details, and consumers are often asked to use electronic money transfer services such as UKash vouchers or Paysafecard to provide an upfront payment. Often the justification for payments is that money is needed to pay for a courier service to deliver a cheque, or to insure a sum of money being sent. The scam often claims the member of the public is due the money after a formal court settlement - perhaps relating to bank charges, mis-sold PPI or an accident claim. The MoJ never directly offers compensation payments in this way, and consumers should be particularly on their guard if they have not already made such a claim.
In several cases fraudsters try and pressure people for payment, suggesting local shops where UKash vouchers or Paysafecard can be purchased and demanding reference numbers of any payments made. In some cases it is possible for money transfer providers to block payments made if they are alerted promptly. UKash can be contacted on 00800 0008 5274, and Paysafecard on 0845 021 3059; both are 24 hour helplines.
In several recent cases scams have used the Ministry of Justice logo to try and add to the appearance of legitimacy, while web or email addresses seemingly similar to those used by the MoJ have been quoted. Often calls or contact numbers appear to be from London phone numbers, although frequently the contact actually originates from outside the UK. The Ministry of Justice is working with Action Fraud, the police and affected money transfer companies to regularly disrupt these scams and close down telephone numbers or email addresses associated with them.
Case Study
Mr David Sharples, a retired electrician from Buckinghamshire, visited the Ministry of Justice in August concerned about sums of money he had sent after calls by someone claiming to be a 'Nick Dawson' of the Royal Courts of Justice in London. Earlier in the year 64 year-old Mr Sharples had been contacted by a legitimate claims firm suggesting he may be able to make a claim for mis-sold PPI, but had subsequently decided to cancel a payment to begin a claim.
Some months later he was then contacted out of the blue by a 'Nick Dawson' suggesting a claim had none the less been processed and he was now due payment of approximately £4,630. Mr Sharples was initially told he needed to pay a £199 administration fee via the Post Office MoneyGram transfer system, with the caller explaining that the payment was being processed in Delhi due to lower office costs in India.
Subsequent calls convinced Mr Sharples to send a further £980 by the same process to cover 'insurance' on a money transfer payment to receive the sum it was suggested he was owed from a court settlement. When a third further payment was requested with no money having been received Mr Sharples became suspicious and contacted the Ministry of Justice. When Mr Sharples subsequently challenged 'Nick Dawson' that he was a fraudster the line simply went dead.
Unfortunately Mr Sharples has been unable to recover the money he lost. Neither the Ministry of Justice nor any part of HM Courts & Tribunals Service would contact a claimant in this way, or request an up front payment via money transfer. Any calls of this type should be reported immediately to Action Fraud.
Notes to Editors
An image of a scam fax misusing the Ministry of Justice logo is also available. Please contact the Ministry of Justice Press Office if you would like this image and have not been sent it with the news release.
Published 1 May 2012