Fraudsters are using the name of the Ministry of Justice and other organisations to trick members of the public into parting with money.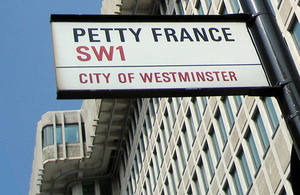 Fraudsters are using the name of the Ministry of Justice and other organisations to trick members of the public into parting with large sums of money.
The Ministry of Justice is warning the public to be alert after a recent increase in scams where consumers are being telephoned or emailed by people falsely claiming to be from the Ministry of Justice and other organisations.
This scam usually involves fraudsters contacting a consumer and saying they are calling from the Ministry of Justice, the HM Courts, the Tribunal Service or another high profile organisation. They tell the victim they could be owed money - usually like a repayment of a bank charge, payment protection insurance, or a court settlement. They then ask for an upfront payment from the consumer so that they can send the money owed to them.  
These callers are con-men and have no connection with the MoJ or any of the other organisations they name - like HM Courts or the Tribunals Service.
Sixty-four year old retired electrician David Sharples from Buckinghamshire contacted the MoJ in August as he had become suspicious about calls he had received. Earlier in the year Mr Sharples had been contacted by a legitimate claims firm saying he may be able to make a claim for mis-sold PPI, but he subsequently decided to cancel a payment and his claim.  
Some months later - and out of the blue - a 'Nick Dawson' contacted him to say the claim had actually been processed and that they found he was owed about £4,630. The caller at first told Mr Sharples he needed to send an administration fee of £199 via the Post Office MoneyGram transfer system to get this money he was owed - and that the payment needed to be processed in India.  Mr Sharples then got another call to say he needed to send another £980 by the same process so they could release the money.  
When a third further payment was requested with no money having been received, Mr Sharples became suspicious and contacted the MoJ. The next time 'Nick Dawson' called Mr Sharples challenged him and said he was a fraudster - and the line simply went dead. He never heard from him again, but unfortunately Mr Sharples has been unable to recover the money he lost.
The bogus callers often ask for personal financial information such as bank account details or ask victims to use electronic money transfer services such as UKash vouchers or Paysafecard and to pay upfront in order to get the money promised. Some scams have used the MoJ logo or similar web or email addresses or London based phone numbers to trick people into believing them. Victims have lost up to £50,000.
Neither the Ministry of Justice nor any part of HM Courts and Tribunals Service would ever contact a claimant in this way, or request an upfront payment via money transfer.
Justice Minister Jonathan Djanogly, said:
'I would urge the public to be on their guard and not to hand over any money until completely confident a company is legitimate, and to contact the authorities immediately if they are concerned.'
The Ministry of Justice is warning all consumers not to pass on personal or financial details to such callers. If you believe you have been a victim of this scam please report the matter to Action Fraud on 0300 123 2040. See our advice page
Published 1 May 2012