World news story
War Veteran's annual pilgrimage to remember Tanzania's fallen
Captain David Nickol, a 93-year old veteran of the Second World War and a former District Commissioner in Tanganyika returned to Dar es Salaam and Arusha to pay his respects to the memory of the Askari's who fell in battle during World War 2.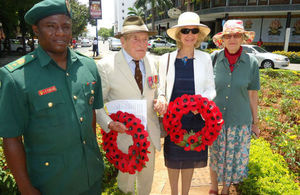 This is an annual pilgrimage that David has made for many years, accompanied by his wife, Ayesha and a symbol of his fondness for Tanzania.
David travelled to Arusha first where he laid a wreath along with Brigadier Duncan Francis, Defence Attaché to the British High Commission in Kenya and Tanzania.
David then attended the Askari Memorial in Dar es Salaam where he was joined in a wreath laying ceremony by the British High Commissioner, Dianna Melrose.
David, served in the 6th Battalion of the Kings African Rifles, serving in East Africa, Madagascar and Burma, before becoming a District Commissioner in Tanganyika.
Published 4 February 2014