World news story
Wanda chooses UK for major investment programme
From:

Part of:

Published:

19 June 2013
This was published under the 2010 to 2015 Conservative and Liberal Democrat coalition government
On 19 June, British Ambassador extended congratulations to the Dalian Wanda Group on its acquisition of majority shareholding in Sunseeker.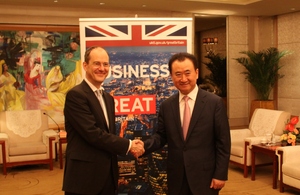 The British Ambassador to China today extended congratulations to the Dalian Wanda Group on the announcement that Wanda will acquire a majority shareholding in pre-eminent British luxury motor yacht manufacturer Sunseeker. The deal, which is expected to close by mid-August, has a total value of £320 million.
Wanda, which is China's largest premier commercial property and entertainment conglomerate, also announced today the company will develop a real estate project in London, which will include the company's self-branded five-star Wanda Hotel. It will be the first luxury hotel opened by a Chinese firm overseas.
Commenting on the Sunseeker acquisition, Wanda Chairman Wang Jianlin said:
Acquiring Sunseeker deepens Wanda's international influence and represents an important step forward for the overall development of our business. With the committed support of Wanda, Sunseeker is well-placed to take full advantage of opportunities in China, one of the world's fastest growing luxury yacht markets. We are confident that this will bring Sunseeker's business to the next level.
As a global brand in the luxury motor yacht sector with a rich history, Sunseeker is synonymous with quality and design leadership, and dedication to brand excellence. Wanda recognises the importance of Sunseeker's investment in innovation, the quality craftsmanship produced by its skilled workforce and its commitment to using the world's best components.
Under Wanda ownership, Sunseeker will remain a British company, headquartered in Poole, Dorset, and will maintain its existing primary production bases in the UK along with its current workforce. Wanda has expressed full commitment to supporting Sunseeker's superior products, its rich heritage and its premium brand, which will be further enhanced by Wanda's continued investment.
The new Wanda Hotel will have a construction size of 105,000 square meters, approximately 20,000 of which will be used for the Wanda Hotel, which will have 160 rooms. The project plans include 63,000 square meters of premium apartments. The Wanda development project will become a new London landmark upon construction completion. The total value of the project is almost £700 million.
British Ambassador to China, Sebastian Wood, said:
With over 500 mainland-Chinese companies operating in the UK, Wanda is not alone in taking advantage of the world's most open investment environments. However, the size of their investments and their plans for the future definitely put them in the top tier of global investors.
The UK is China's natural Partner for Growth for future business collaboration, ideally placed to help China move up the value chain, becoming an increasingly knowledge-driven economy grounded in creativity. The UK's strengths perfectly complement China's needs.
These investments will further strengthen the bilateral relationship between Britain and China, and signal even closer ties between our two countries. We hope to work closely with our Chinese counterparts to further support initiatives that promote opportunities for commercial, trade and development collaboration between Chinese and British businesses for the mutual prosperity and benefit of both sides.