Wallace and Gromit' patrol the streets of Kabul
Lance Corporal Andy Wallace and his patrol dog Gromit from the working dogs section based at Camp Bastion in Helmand province are currently helping to increase security on the streets of Kabul.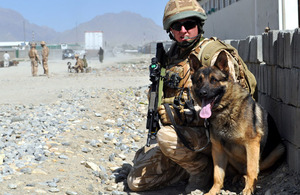 LCpl Wallace, usually based in Sennelager, Germany, with 105 Military Working Dog Support Unit, Royal Army Veterinary Corps, and his dog Gromit will be deployed to Kabul for a few weeks before returning to Camp Bastion.
Their current role sees them leaving Camp Souter in Kabul every morning as part of a security patrol and going out onto the streets to reassure the local Afghans that the area is safe.
LCpl Wallace said:
Both Gromit and I love getting out. The local people are always glad to see us. Well, they're glad to see me!
LCpl Wallace explains that Gromit is not necessarily the cuddly character that his name suggests - he's trained to be a protection dog:
If ever a crowd becomes too rowdy or riotous, Gromit is brought in to calm things down.
He can be fairly aggressive when he needs to be. Most people don't mess with Gromit," LCpl Wallace added.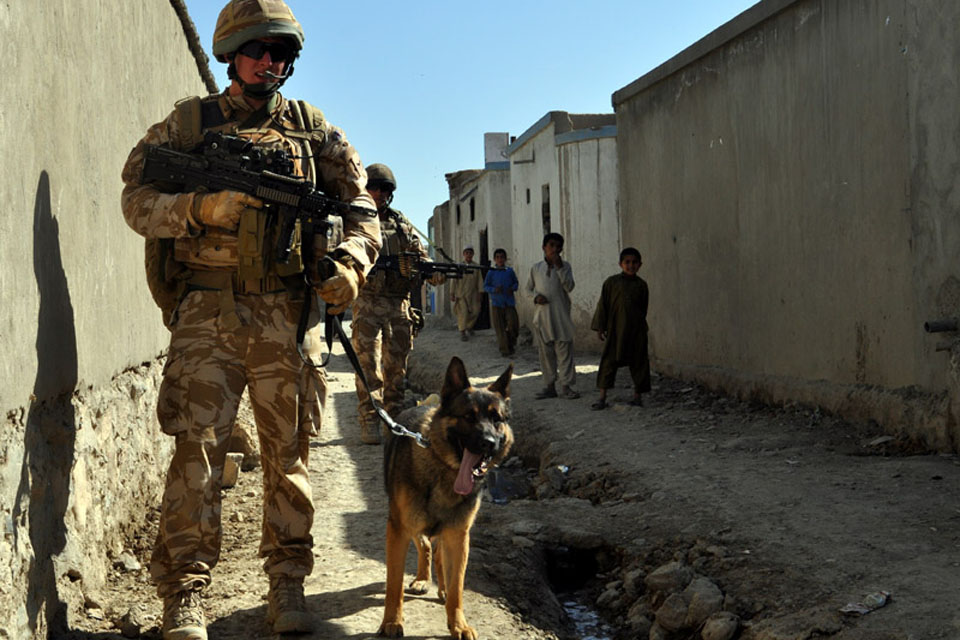 LCpl Wallace was posted to Afghanistan after he completed his dog handling course in June last year following two tours of Iraq as a medic.
He and two-year-old Gromit have been teamed up for the last six weeks and will see out the six-month tour in Afghanistan together:
We have made a real bond," LCpl Wallace said. "Gromit is so protective of me and won't let anyone else come near.

We spend most of every day together, be it on patrols talking to the local people to see if they have any concerns and picking up ideas for developing the community, or on guarding duties.

You never feel lonely when you have a companion like Gromit but I do miss my family and my girlfriend Zoe.
Also patrolling on the streets of Kabul are Private Laura Foxon, from 102 Military Working Dog Support Unit, Royal Army Veterinary Corps, and her vehicle search dog, four-year-old Springer Spaniel JJ.
As a search dog, JJ can check up to 30 vehicles a day, sniffing for ammunition, explosives or unusual scents.
Private Foxon has been in the Army for three years and says that JJ is much less intimidating than Gromit:
We are definitely the friendlier pair!" she laughs.
LCpl Wallace and Gromit keep watch as Private Foxon and JJ check all around some vehicles:
We've not had any finds as yet, but JJ is very thorough," notes Private Foxon.
Shortly, both teams will go back to Camp Bastion in southern Afghanistan where they will patrol the perimeter and keep safe the thousands of troops living there.
Published 12 May 2010