News story
Wales Office Minister meets Newport people getting back to into work
Wales Office Minister Stephen Crabb visits Newport Jobcentre Plus office and a Work Programme Provider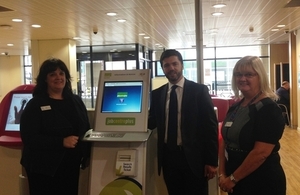 Wales Office Minister Stephen Crabb will see the 'can do' approach that is supporting Newport's unemployed back into employment when he visits the city's Jobcentre Plus office and a Work Programme Provider today (24 October).
The visit comes in the week after the Office for National Statistics (ONS) figures showed a further increase in employment in Wales over the last quarter, with 11,000 more people in work. The ONS also announced that unemployment in Wales is down by a further 1,000 over the last quarter, with youth unemployment also seeing a welcome fall.
In Newport, whilst latest ONS data showed a slight dip in employment rates, there has been an overall upward trend in the numbers of employed people in Newport since the recession and unemployment has been falling over the last two years. There are 2600 more people in work in Newport than March last year.
At Newport Jobcentre, Mr Crabb will observe the Centre of Excellence Suite and CV Workshop Zone. He will also put to test their new self service kiosk, developed in partnership with Newport City Council.
He will later visit Newport City Council's Work Programme premises where he will observe a digital job search workshop and have the opportunity to speak to claimants about their individual journeys and support they receive from the Jobcentre and Work Programme.
The Work Programme is a UK Government scheme which provides personalised support for claimants who need more help to find and stay in work. Over 7,500 of the hardest to reach people in Wales have been helped into sustained jobs through the programme since its launch in 2011.
Wales Office Minister Stephen Crabb said:
"I am looking forward to having the opportunity to see how Jobcentre Plus and the Work Programme are delivering the support people in Newport need to get back into work.
"Employment figures in Wales are steadily rising and the fall in the number of young people out of work is particularly welcome. But there is no room for complacency. There is still a lot of work to be done to ensure the people most in need of assistance get the support they need.
"This Government will continue to support people to develop careers by giving them the work experience and valuable knowledge they need to enter the job market. Only that way can we build the long-term sustainable employment patterns that achieve prosperity for families, local communities and the country as a whole."
Martin Brown, Group Director for Jobcentre Plus in Wales, said:
"I'm delighted the Minister is visiting Newport Jobcentre to see the way our services are being modernised to take advantage of new technology. Supporting jobseekers to use digital tools as part of their job search is really important. Newport Jobcentre, in partnership with the council and other local organisations, is leading the way on this important agenda."
Published 24 October 2013
Last updated 24 October 2013
+ show all updates
Updated image.
Added translation