Press release
Wales Office Minister: 'Important' we honour those who paid the ultimate sacrifice for us in the First World War
Wales Office Minister Baroness Randerson has today added her support to plans for Victoria Cross recipients to be honoured as part of the remembrance proposals to mark the centenary of the First World War in 2014.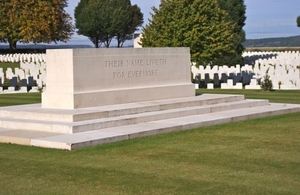 An announcement from Department for Culture Media & Sport (DCMS) and Department for Communities and Local Government (DCLG) laid out the Government's plans to restore war memorials across the UK. These plans will see recipients of the Victoria Cross honoured by special commemorative paving stones laid in their hometowns.
In Wales, the Eisteddfod – which will be held in Llanelli next year – will feature events with a Centenary theme, inviting people from across the country to play their part in the commemoration.
Baroness Randerson said:
The First World War irrevocably changed the United Kingdom, and is a significant part of our history. It is important that we honour those that made the ultimate sacrifice to fight for King and Country in a way that is fitting.
The Victoria Cross is the highest military honour given for valour 'in the face of the enemy' during the conflict and so I am pleased that the plans announced today mean that people from across the UK can support and contribute to the special commemorative paving stones together.
In Wales one of our most important cultural events, the Eisteddfod, will play a critical role in our national remembrance of the Centenary of this most tragic war.
Note to Editors:
*For further information on today's announcement, please visit the DCMS website link text
*Communities Secretary Eric Pickles has announced a national competition to design specially commissioned paving stones which will be presented to councils in the areas where those Victoria Cross recipients of the First World War were born.
*For Press Enquiries about the Victoria Cross winners and Centenary Apprenticeship Scheme please contact the DCLG Press Office 0303 444 120
*Grants announced today include the first to be awarded through First World War: then and now, HLF's £6million small grants programme announced by the Prime Minister at the Imperial War Museum last October which aims to help communities explore, conserve and share their First World War heritage
Published 4 August 2013