Press release
Wakefield waste firm has permit revoked
Noble Waste Treatment Ltd has history of failing to comply with environmental rules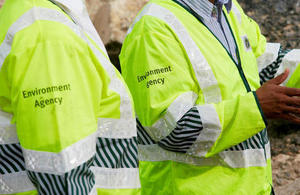 The Environment Agency has revoked the environmental permit of Wakefield firm Noble Waste Treatment Ltd following a series of breaches of permit conditions.
The permit revocation means that Noble Waste Treatment Ltd can no longer operate its waste transfer facility at Thornes Lane Wharf, Wakefield, and no more waste can be accepted at the site.
The company has a history of failing to comply with the conditions of its environmental permit, which are to ensure the protection of the environment and local communities from the risk of pollution caused through the carrying out of waste activities.
Past problems at this site include the storage of excessive waste for prolonged periods, the storage of waste in a manner that poses a fire risk, and the storage of waste on land outside the permitted area.
Noble Waste Treatment has until 22 September to remove waste from the permitted area of the site. If it does not comply, the firm may face the prospect of further legal action.
A spokesperson for the Environment Agency said:
The Environment Agency has revoked Noble Waste Treatment's permit in order to protect the environment. The company has a history of failing to comply with the conditions of its permit, and it has failed to respond to advice, guidance and enforcement action taken against it.
It is vital that waste companies comply with the law so that communities and the environment are not put at risk. We work with operators to help them meet their obligations, but where significant or repeated breaches occur, we will take appropriate action to protect the environment.
Last year the Environment Agency served a legal notice on the company to revoke its permit but the company appealed, allowing them to continue to operate while awaiting the outcome of the appeal. Last week, on 22 June, the Planning Inspectorate found in favour of the Environment Agency and dismissed Noble Waste Treatment's appeal, bringing into effect the permit revocation.
A separate company with a similar name, Noble Skip Services Ltd, is not directly affected by the permit revocation as it operates under an existing waste carriers' licence. It may continue to collect waste from businesses and residents, but it cannot deposit that waste at the Thornes Lane Wharf site.
Anyone who experiences problems from this or any other waste site is urged to report the matter to the Environment Agency's incident hotline on 0800 807060.
Published 30 June 2016