Press release
VOSA safe driver's guide wins award
Easy to use safety guide helps drivers understand complex rules of the road.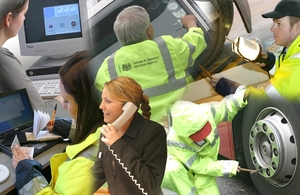 A pocket guide designed to improve road safety by helping professional drivers understand complex drivers' hours rules has been recognised with a national award.
VOSA's 'Staying legal - the basics' guide has won the Print Innovation Award at the 2011 Good Communication Awards.
VOSA began distributing the fold-out pocket guide to HGV and PSV drivers at the roadside in March and, to date, 50,000 have been given out. It gives simple tips on drivers' hours rules, vehicle condition and the responsibilities of the professional driver.
VOSA's Head of Communications Kevin Rooney said:
Our 'Staying legal' guide is an important tool in helping to improve road safety and it is great that it has been recognised in this way. We worked hard to produce a guide which is comprehensive, easy to use and tough enough to withstand regular use on the road and we are proud of the result.

Driver education is a vital part of our work and we know we need to be really innovative to get the correct information direct to drivers.

The challenge for us is to help drivers from the UK and abroad to understand the rules quickly and simply so that they can be confident that they are staying legal.

I truly believe that this guide will make a big contribution to road safety and save lives.
Head of Distribution (South West) at Royal Mail Logistics Josh Knight said:
It's nice to know that VOSA is producing information that is easily understood by all members of the transport trade and in a format that foreign drivers have no problem in understanding.

The 'Staying legal' leaflets were given to our drivers who have made a number of comments praising the way the information is displayed.

They believe the leaflet has been designed for the drivers rather than office staff and managers. The diagrams are easy to understand and clearly show the link between daily hours, how they impact on the rest requirements and period driving hours.
VOSA is handing out the guide at its roadside checks and copies have also been made available at truck stops. It can also be downloaded and printed off from:
Notes to editors
VOSA is responsible for:
processing applications for licences to operate lorries and buses and registering bus services
operating and administering testing schemes for all vehicles, including the supervision of the MOT testing scheme
enforcing the law on vehicles to ensure that they comply with legal standards and regulations
enforcing drivers' hours and licensing requirements
supporting Traffic Commissioners to help them make informed decisions on operator licensing, vocational drivers and bus registration requirements
providing training and advice for commercial operators
investigating vehicle accidents, defects and recalls
VOSA media enquiries
You should contact our press office if you have a media query or you're a journalist.
Published 21 July 2011