Press release
VOSA publish MOT garage contact list
Contact details for all MOT test stations to be published on the web.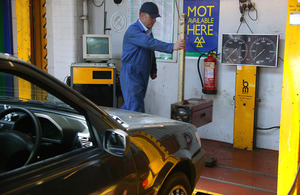 The contact details of all MOT test stations will be published on the web today (3 June 2010) as the government continues to make non-sensitive, non-personal data that it holds more accessible to the public.
The information, held by VOSA, will be put on the website Data.Gov which is designed to help people outside of government make use of public data.
The details being published are
trading name
address
contact telephone number
classes of vehicles tested
vehicle test station number
VOSA says it will make MOT stations and MOT data more readily available so that complying with road laws becomes easier for motorists.
In January, the agency published a summary of MOT failure rates for vehicle makes and models on the website.
Notes to editors
VOSA is responsible for:
processing applications for licences to operate lorries and buses and registering bus services
operating and administering testing schemes for all vehicles, including the supervision of the MOT testing scheme
enforcing the law on vehicles to ensure that they comply with legal standards and regulations
enforcing drivers' hours and licensing requirements
supporting Traffic Commissioners to help them make informed decisions on operator licensing, vocational drivers and bus registration requirements
providing training and advice for commercial operators
investigating vehicle accidents, defects and recalls
VOSA media enquiries
You should contact our press office if you have a media query or you're a journalist.
Published 3 June 2010