Press release
VOSA marks opening of 150th Authorised Testing Facility (ATF)
New private sector testing centre to provide services 5 days a week as scheme continues to cut industry costs.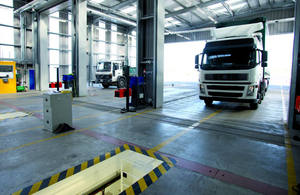 Today (8 December 2011) marks the opening of the 150th ATF at Brownhills-based Gulliver's Truck Hire Ltd which will offer open access vehicle testing of trailers, heavy goods and public service vehicles 5 days a week.
ATF are part of VOSA's initiative to reduce costs to industry and take testing close to customers.
Having undertaken market analysis to establish the likely ATF take up around existing VOSA sites, VOSA will cease testing at its Sheffield and Taunton test stations by the end of August 2012 and Purfleet by the end of October 2012.
VOSA Chief Executive Alastair Peoples said:
I am delighted that so far 150 companies have invested in opening ATF and are saving thousands of pounds in reduced fuel costs, vehicle downtime and salaries.

It is essential to provide good value for money services and reduce costs to the industry and I am very pleased with VOSA's progress in supporting the development of an ATF network where the same high standard independent tests can be provided to our customers by VOSA staff.
Local staff will be involved in options development for future delivery of operations in these areas with VOSA staff delivering heavy goods and public service vehicle testing from ATF.
Notes to editors
Testing Transformation Programme (TTP)
The aim of TTP is to reduce the cost to industry of statutory testing by ensuring that testing is carried out at or near where vehicles are maintained.
VOSA aims to achieve this by delivering testing in the form of ATF - sites in the private sector that use VOSA testing staff.
At the same time VOSA will avoid having to invest tens of millions of pounds modernising its own ageing estate, which directly impacts the test fee.
Market analysis
Market Analysis is a rigorous approach to research the potential ATF market around VOSA's test stations. Last year VOSA reviewed the potential ATF market in 20 full-time test station areas.
In 2011/12 the Secretary of State target is to complete market plans around 25 areas. Sheffield, Taunton and Purfleet were part of last year's analysis - they all indicated a strong ATF market and represented a good geographical coverage.
VOSA will offer testing at Sheffield and Taunton until the end of August 2012, and at Purfleet until the end of October 2012, in order to meet any increase in demand related to the London 2012 Olympic and Paralympic Games.
So far VOSA has announced ceasing testing at the following sites:
Birmingham - ceased testing on 29 July 2011
Mitcham - ceased testing on 29 July 2011
Bishopbriggs (Glasgow) - due to cease testing on 2 December 2011 with retests offered until 16 December 2011
Liverpool - due to cease testing on 2 December 2011 with retests offered until 16 December 2011
Gloucester - due to cease testing on 2 December 2011 with retests offered until 16 December 2011
Ipswich - due to cease testing in April 2012
Stoke - due to cease testing in April 2012
More information on ATF is available on Set up an Authorised Testing Facility (ATF) page.
A full list of open access non-VOSA heavy vehicle testing sites is available on DATA.GOV.UK.
Driving Standards Agency (DSA)
DSA has been involved in VOSA's plans. DSA will continue to work closely with VOSA as it reviews its options for continued provision of services. For more information please contact DSA Press Office on 0115 936 6133.
VOSA
VOSA is responsible for:
processing applications for licences to operate lorries and buses and registering bus services
operating and administering testing schemes for all vehicles, including the supervision of the MOT testing scheme
enforcing the law on vehicles to ensure that they comply with legal standards and regulations
enforcing drivers' hours and licensing requirements
supporting Traffic Commissioners to help them make informed decisions on operator licensing, vocational drivers and bus registration requirements
providing training and advice for commercial operators
investigating vehicle accidents, defects and recalls
VOSA media enquiries
You should contact our press office if you have a media query or you're a journalist.
Published 8 December 2011