Volunteers save local Tourist Information Point
Dedicated volunteers in the town of Easingwold, North Yorkshire, have worked together to keep their local Tourist Information Point open.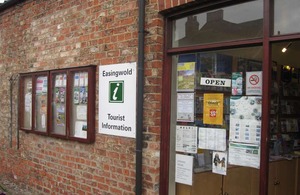 The group of 50 volunteers set up a steering group and began discussions with the council to prove they could successfully run the facility themselves.
The Localism Bill has been introduced to help communities do just this. By shifting power from central government into the hands of citizens, communities can take responsibility for vital services and decide how they should be run. Those who know their local area best know what services they require, and the residents of Easingwold knew how important the Tourist Information Point was for their community.
The centre was able to remain open with the aid of grants from Hambleton District Council and North Yorkshire County Council. Hambleton District Council also helped by leasing the premises at a low rent and small lottery grants have assisted with the production of leaflets and a website.
As the office is run solely by volunteers, annual running costs are a low £1,500, and are met by various fundraising activities, the proceeds of which go back into the Tourist Information Point.
The knowledge the volunteers have of the local area is beneficial to both visitors and the wider community, who can benefit from increased business and tourism. Many of the volunteers are of retirement age so have the opportunity to re-use their skills, pass on their knowledge and put something back into the community.
Easingwold Tourist Information Point
Video transcript (MS Word Document, 27.5KB)
The future looks bright for the Tourist Information Point and it will soon celebrate its fourth birthday. A 10-year lease has also been secured on the premises, enabling the volunteers to consider the long-term plans for the facility.
Other communities seem to be following the example set by the volunteers of Easingwold, as Treasurer and Secretary, Frank Johnston-Banks said:
"We are becoming well known for what we do and how well we do it, with the result that other similar centres visit us to find our secret. But there is no secret. If somebody gets paid, they do the job because they have to. If somebody volunteers they do the job because they want to - and they put more into it, resulting in a better organisation."
With this sort of ethos sitting at the heart of the office, it seems as though the next 10 years will be just as successful. The volunteers have demonstrated the amazing achievements of a group who united together for a cause that has clear long-term benefits for the wider community.
Published 13 June 2011