Volunteering: UK doctors and nurses helping the poorest
Volunteer British doctors, nurses and midwives will train more than 13,000 health workers to provide life-saving care for millions of the world's poorest people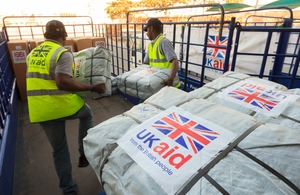 Volunteer British doctors, nurses and midwives will train more than 13,000 health workers to provide life-saving care for millions of the world's poorest people, Andrew Mitchell announced today.
Skilled health professionals from Britain will teach and offer practical assistance to their counterparts in the developing world under the Government's Health Partnership Scheme.
Over four years, the flagship programme will:
Train 13,000 overseas healthcare workers across many disciplines, including trauma care, mental health, anaesthesia and maternal and child health;
Support 142 skilled British healthcare volunteers for 6 months or over; and
Enable 600 UK healthcare workers to volunteer overseas on short term placements.
British health workers will pass on their experience to colleagues in developing countries with practical 'on the job' training in clinics with patients. They will also offer one-to-one mentoring, run courses and develop guidelines and protocols to ensure clinics run more effectively.
The scheme also benefits volunteers as they return to the NHS with increased knowledge, better leadership skills and an improved ability to deal with complex situations under pressure.
The programme, managed by The Tropical Health and Education Trust (THET), is part of the Coalition Government's commitment to save the lives of at least 50,000 women during pregnancy and childbirth and 250,000 newborn babies by 2015.
Speaking at an event organised by the Royal College of Midwives to mark International Day of the Midwife, International Development Secretary Andrew Mitchell said:
"British nurses, midwives and medical teams are among the best in the world. The Health Partnership Scheme allows us to harness their expertise to help give developing countries the skills needed to improve the health of some of the world's poorest people.
"It is an international scandal that one thousand women die every day in pregnancy or childbirth and tackling the tragic scale of maternal and child deaths is a key priority for the British Government."
Jane Cockerell, Chief Executive at THET, said:
"We are delighted by the quality and range of these HPS grants and look forward to supporting the UK and developing country partners in their delivery of effective, sustainable health workforce training and development projects"
The scheme will support up to 50 international partnerships between the NHS and UK institutions and developing countries' health systems. Partnerships already formed include:
The Royal College of Midwives and midwife associations in Uganda and Cambodia with British professionals providing one to one support;
The Association of Anaesthetists of Great Britain and Ireland and the Ugandan Association of Anaesthesia to improve safe deliveries by training health workers in obstetric anaesthesia; and
The Royal College of Paediatrics and Child Health with paediatric associations across Kenya, Rwanda and Uganda to improve the quality of emergency hospital care for 150,000 children.
Partnerships will be encouraged to support the use of innovations in technology, such as live internet link-ups and the use of mobile phones for emergency referrals and operations.
An electronic database, launched today, matches requests for help from developing countries against offers from other countries, including the UK, to provide health assistance.
Volunteers can be midwives, nurses, doctors or health technicians and long term volunteers from the NHS will have their pension contributions guaranteed.
Published 8 May 2012