Press release
Voluntary sector at forefront of new fight against reoffending
A major step towards completing the government's crucial rehabilitation reforms was taken today, as the organisations that will play a key role in turning round the lives of offenders were announced.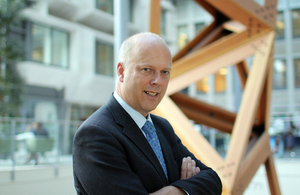 The move paves the way for the launch early next year of Government plans to extend support and supervision post-prison for 45,000 short sentence prisoners who are currently left to walk the streets after their release. Currently almost 60% of these reoffend within a year.
Twenty of the 21 contract areas will be led by new partnerships and joint ventures between private sector firms and some of Britain's biggest and most successful rehabilitation charities. They will spend a full year after the release of every prisoner working with them to try to stabilise their lives and help prevent them from reoffending. They will work alongside a host of public and private sector organisations to introduce a new and innovative approach to rehabilitation across England and Wales.
Half of the partnerships chosen as preferred bidders also include new "mutual" organisations set up by current probation staff to take over their own organisations. The list of preferred bidders includes 16 charities and voluntary organisations, four probation staff mutuals and seven private companies, all with different expertise to bring to rehabilitation.
In addition, around 75% of the 300 subcontractors named in the successful bids are voluntary sector or mutual organisations, putting them at the frontline of offender rehabilitation as the Government battles against stubbornly high reoffending rates.
There was strong competition for each of the 21 Community Rehabilitation Companies (CRCs), with bids showing real innovation. This includes proposals for far greater use of new technologies, both to enable frontline staff to work more efficiently and to enhance offender supervision. A wide range of models for mentoring prisoners on release were also put forward, along with extensive new rehabilitation activities, and more targeted services for specific offender groups such as women or those with mental health problems.
Justice Secretary Chris Grayling said:
These reforms are all about changing lives. We cannot go on with a situation where thousands of prisoners are released onto the streets every year with no guidance or support, and are simply left to reoffend. These reforms will transform the way in which we tackle reoffending.

This announcement brings together the best of the public, private and voluntary sectors to set up our battle against reoffending, and to bring innovative new ways of working with offenders. In particular, I am really pleased that we will be deploying the skills of some of Britain's best rehabilitation charities to help these offenders turn their lives around.

This new approach will not just redouble our efforts to bring down reoffending. It will also prevent many more people from becoming victims of crime in the future.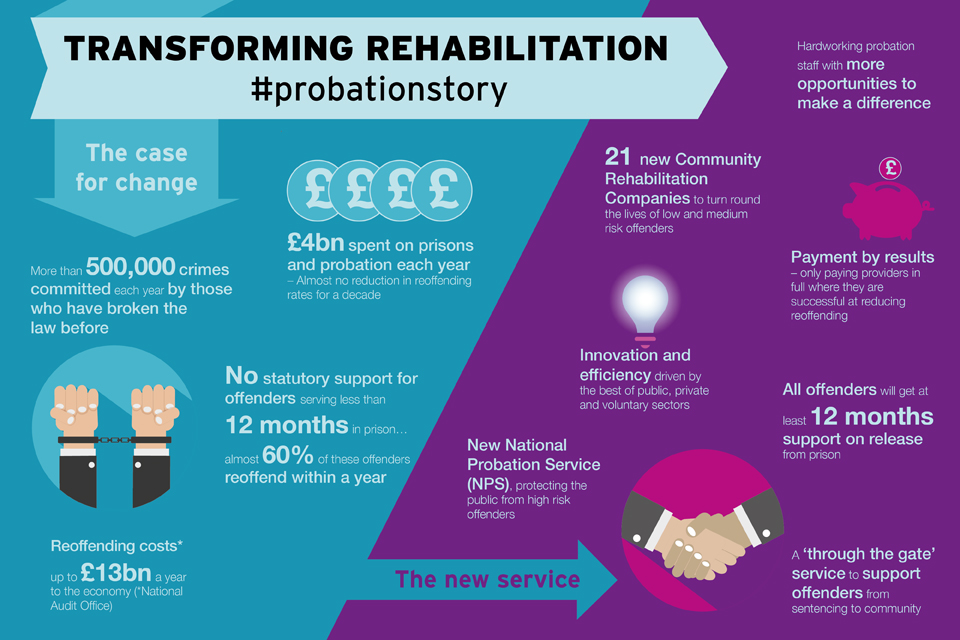 Contracts have been split across 20 regions for England and one for Wales, and the successful bidders will be responsible for supervising and rehabilitating an estimated 200,000 low and medium risk offenders.
In addition to the preferred bidders, almost 1,000 organisations, including 700 listed as VCSE (voluntary, community or social enterprise) have put themselves forward to work with the chosen providers to develop new ways of reducing reoffending and protecting the public.
Providers will only be paid in full if they are successful at reducing reoffending, helping drive innovation and getting best value for taxpayers.
Along with extending community supervision to all offenders, a nationwide network of resettlement prisons is also being created that will see offenders managed by the same provider from custody into the community, ensuring a proper through-the-gate approach to rehabilitation.
Under this system, CRCs will be required to draw up a plan for an offender's rehabilitation within the first few days of them entering prison. The same organisation will then continue to support that individual throughout their time in prison, and this will continue as they are released into the community. The focus of the CRCs will be as much on helping ex-offenders sort their lives out as on traditional supervision.
They will also work hand in hand with the public sector National Probation Service, which is tasked with protecting the public from high risk offenders.
Notes to editors:
Table A contains a list of the preferred bidders by CRC.
The 'Preferred Bidder' status of the companies listed above means that these are now the only suppliers with whom MoJ is in talks to arrange the contracts. Once the preferred bidder stage has concluded, we will receive best and final offers and then award contracts.
Once final contracts have been signed, we expect providers to be in place and delivering services in early 2015.
For further details on our Transforming Rehabilitation reforms.
For further information on our ongoing competition process.
For further information please contact the Ministry of Justice press office on 020 3334 3536 @MoJPress
Published 29 October 2014