Press release
Voluntary guidelines for coach operators amended
Revised guidance published for coach travel to sporting events in England and Wales.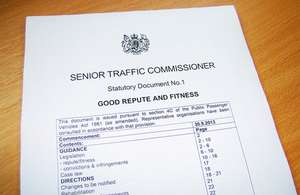 An amended voluntary code of practice for coach operators taking passengers to designated sporting events has been published today (17 April 2014).
The guidance, which is part of the Senior Traffic Commissioner's statutory document on Good repute and fitness, has been reviewed at the request of police in England and Wales. The proposed changes were then open to a public consultation.
The revised code of practice asks coach operators to comply with additional and amended guidelines when they are carrying passengers to and from sporting events in England and Wales.
In addition to the existing guidelines, operators should ensure:
additional information is given to police liaison officers 48 hours prior to an event (the name and contact number for the person who made the booking, the vehicle's registration mark and coach driver's name)
coaches leave the ground within 30 minutes of the event finishing, unless directed otherwise by a police officer or ground safety officer (previously 1 hour)
flares and pyrotechnics are not carried on coaches - drivers should supervise boarding passengers to check they are not obviously carrying flares and similar pyrotechnics (as well as alcohol)
the police liaison officer is told, upon arrival at an away football ground, of any racist, homophobic or similar chanting, which had taken place during the journey to the ground
The code of practice also indicates that operators may make voluntary searches a condition of entry to the vehicle.
Operators are asked to comply with all of the guidelines on a voluntary basis. However, if the police inform the traffic commissioner of any failure on an operator's part to comply with them, the commissioner will consider whether to apply them as a formal condition to that operator's licence.
Traffic commissioners may also consider regulatory action against the operator's licence.
The voluntary code of practice applies to operators taking passengers to designated sporting events in England and Wales.
Damien Currie
Damien Currie
Media Officer for the Senior Traffic Commissioner
Published 17 April 2014