World news story
Ambassador Shorter meets 200 Palestinian students in Siblin
UKAid has helped over 300 Palestinian refugee students with short term courses and over 700 with English language training.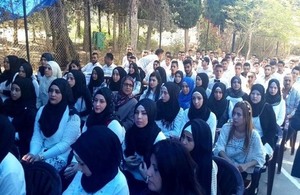 As part of his ongoing visits to UK funded projects across Lebanon, British Ambassador to Lebanon Hugo Shorter met with more than 200 Palestinian students in Siblin training centre, run by UNRWA, for their vocational graduation ceremony.
Welcomed by the Principle of Siblin Training Centre Samer Serhan, ambassador Shorter was briefed on the ambitions of young Palestinians in Lebanon to find good jobs, support themselves and their families, and make a positive contribution to the community. Over 300 students have benefited from short term courses both in Siblin and at the Northern campus and over 700 have received English language training, to support their education and path towards finding work.
At the end of his visit, Shorter said:
Two weeks ago, I visited Zahle and met Lebanese residents and small businesses who have benefited from a UK-funded job creation project there.

Today I've heard how, guided by market demand, Palestinian youth are receiving vocational training with UK support. I've heard moving stories showing great dignity amid challenges. Through the UK's projects in Lebanon we will continue to improve the living and humanitarian conditions of refugees - wherever they may come from. Education, economic opportunities and improving livelihoods is the core of what we do in and for Lebanon, for Lebanese and refugees alike.

I know that many children in Palestinian camps and gatherings in Lebanon drop out of primary and secondary schools and few feel able to complete higher education. In the face of challenging circumstances, I am struck by the resilience and determination of young Palestine refugees living in Lebanon. I am also pleased that the courses offered opportunities for all, young women and young men, and for the first time included Palestinian young people from both Lebanon and Syria.

The UK's firm commitment to support Palestine refugees throughout the region and in Lebanon continues. The UK is the second largest bilateral donor to UNRWA. This year the UK decided to increase funding for projects in Lebanon that support Palestinian youth, working to enhance social, economic and governance participation of young people for the good of their communities. A key part of this is access for young Palestinian refugees, such as those here today, to vocational and skills training which is related to real demand in the labour market to enhance economic opportunities.
Published 14 July 2016