World news story
VisitBritain's GREAT Tourism Week 2015 in North India
Post the successful run of VisitBritain's first ever GREAT Tourism Week (GTW) across India in 2014, GTW 2015 now arrives in North India after a successful start in West India in August 2015.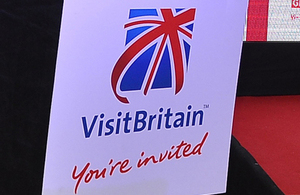 UK suppliers will visit 2 North Indian cities with the VisitBritain roadshow
Delhi – 9 September; Lucknow – 11September
390,000 Indian visits in 2014 - a new record
record spend in 2014 - £444 million
GTWs are 'mini roadshow' format, B2B engagement platforms that will tour 9 cities across India until 18 September, starting from Ahmedabad, Mumbai and Pune in the West; Kolkata, Delhi and Lucknow in the East & North and ending with Chennai, Bengaluru and Hyderabad in the South.
GTW is VisitBritain's initiative to provide Indian travel agents and tour operators with a platform to engage and initiate business ties with UK tourism suppliers, such as Virgin Atlantic, Tourism Ireland and Golden Tours. It will be an opportunity to promote Britain's tourism offering and discuss the possibility of developing new bookable products and packages for the Indian visitor.
India is Britain's largest BRIC market in terms of volume of visits. As per the International Passenger Survey (IPS) figures for 2014, there were a record 390,000 visits to Britain from India, up 4% on 2013. Spend figures also grew, reaching a record £444 million in 2014.
GTWs are also a lucrative platform for VisitBritain and the UK tourism suppliers to interact with the regional consumer and the travel trade media in these Indian cities, sharing news and promoting Britain as the destination of choice for the Indian visitor.
Shivali Suri, Country Manager, VisitBritain India said:
India is the top BRIC market for Britain in terms of volume and we are well on our way to achieve our 2020 target of 500,000 visits. Our trade engagement in India is crucial for us to deliver our tourism targets. Our integrated efforts with UK Visas and Immigration (UKVI) in market to help facilitate a visa dialogue between the trade and the UKVI has also been fruitful through these roadshows. The GREAT Tourism Weeks will enable us to engage effectively with the pan-India travel trade and media, as well as providing platforms to introduce new UK tourism products for Indian travellers.
For more information please contact Ritushri Dhankher on 09910668238.
Further information:
office for national statistics

list of participating UK suppliers for Delhi and Lucknow:
UKVI
Virgin Atlantic
Tourism Ireland
Globus & Cosmos
Trafalgar Tours
Taj Tours
Heathrow Express (Global Destinations)
Think Destinations
Premier Explore
Golden Tours
Let's Travel Services Limited
Cruise Professionals
Holidays Carnival
India to Britain tourism figures (as per IPS figures):
| | | |
| --- | --- | --- |
|   | 2014 | 2013 |
| Record | 390,000 visits | 373,000 visits |
| Record | £444 million spend | £439 million spend |
| Average spend per visit | £1,139 | £1,176 |
| Average nights per visit | 24.8 | 25.6 |
2014 figures: breakdown by journey purpose
| | | | |
| --- | --- | --- | --- |
|   | Holiday | Business | VFR (visiting friends and relatives): highest ever for this segment |
| Visits | 116,000 (-10% from 2013) | 117,000 (+11.5% on 2013) | 125,000 (+14% on 2013) |
| Amount spent | £95.5 million (+17% on 2013) | £201 million (-3.3% on 2013) | £73 million (+21% on 2013) |
| Total nights down by | 8% on 2013 | 11% on 2013 | 18% on 2013 |
| Average nights | 8.14 (up 2.5% on 2013) | 23.3 (down 20.5% on 2013) | 36 (up 3% on 2013) |
|   |   | Average spend of a business visitor is £1,714…which is more than twice the average spend per visit by holiday makers |   |
About VisitBritain:
VisitBritain is the national tourism agency, responsible for marketing Britain worldwide and developing Britain's visitor economy.
A non-departmental public body, funded by the department for culture, media and sport, we work with partners in the UK and overseas to ensure that Britain is marketed in an inspirational and relevant way around the world. Our partners include government agencies such as UKTI and British Council, airlines and operators, global brands such as Samsung and the English Premier League as well as the official tourism bodies for London, England, Scotland and Wales.
Our priority is to deliver a four-year match-funded global marketing programme which showcases Britain around the world, attracting new visitors from the tourism growth markets of Asia and Latin America and reinvigorating our appeal in core markets such as the USA, France and Germany. This campaign aims to secure an additional £2 billion in visitor spend.
For more news and articles on Britain please visit our media section.
Document information
Published: 4 September 2015