VisitBritain travel summit coming to Bangalore in 2011
UK national tourism agency VisitBritain to hold its main international travel trade event in Bangalore next year.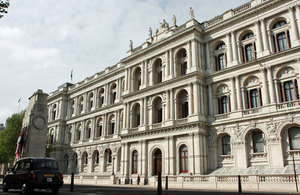 UK national tourism agency VisitBritain will stage its main international travel trade event in Bangalore next year, it was announced during Prime Minister David Cameron's visit to the city today.
''Destination Britain and Ireland 2011,''or **DEBI_,_ ** will enable leading firms from the UK travel trade to meet 100 of the top buyers from 15 countries across the Asia Pacific, Middle East and Australia region.
Held at the luxury Leela Palace hotel, Bangalore in May, the event is expected to generate around £10 million of tourism business for more than 70 companies that are due to take part. They will range from Selfridges to Merlin attractions that owns Legoland, Alton Towers, The London Eye and Madame Tussauds.
India is a key market for VisitBritain. Its fast-growing middle class have growing aspirations and, increasingly, the money to travel. Bangalore, the country's third biggest city, lies at the heart of the country's high-tech industrial boom and, along with Mumbai and Delhi, has direct flights to the UK.
** India-UK tourism is growing fast **
The number of visitors from India to Britain has more than doubled over the past fifteen years to 270,000 a year
That total is forecast to grow by more than 400,000 over the next decade (growth of more than 10% a year or 147% in 10 years.)
Britain is the 10th largest outbound market from India
In 2009 visitors from India contributed £256m to the £16.5bn inbound visitors spent in the UK last year, making India one of Britain's top twenty inbound markets by value
Since the signing of the open skies agreement with India in 2007 direct flights have increased from around 20 a week to over a 100.
Last year nearly 6,800 passenger aircraft departed India bound for Britain
Nearly 40% of visits from India to Britain are for a holiday, with around 30% being a business related trip
Were money no object Britain is fourth on the typical online Indian's list of destinations they would most like to visit behind Switzerland, USA and Singapore
VisitBritain is responsible for promoting Britain overseas as a tourist destination. The organisation stimulates the aspiration to visit the UK with inspirational marketing and PR and then converts that to real travel plans with tactical campaigns, using matching funds from the industry. Our three key campaigns in India are Luxury Britain for the top spenders, Classic Britain for the rising middle classes and Dynamic Britain for the youth market.
Being the host of the 2012 London Olympic and Paralympic Games is a once-in-a-generation opportunity for Britain to showcase Britain as a dynamic and contemporary destination in new growth markets such as India.
Secretary of State for Culture, Olympics, Media and Sport Jeremy Hunt said:
"The number of visitors from India to Britain has more than doubled over the past fifteen years, and we want to do all we can to ensure this growth continues. By holding one of its largest events in Bangalore next year not only will this inspire more people to visit our shores, but it will also lead to and increase in business for all those within the UK tourism industry who are taking part."
Sandie Dawe, Chief Executive of VisitBritain said: '' DEBI is the most cost effective business-to-business tourism sales event in the Asia Pacific, Middle East and Australia region. Where else can you meet with 100 buyers from 15 markets in a one-stop-shop regional event? Visit Britain is thrilled to bring this prestigious international event to the industrial powerhouse of Bangalore.''
For further information, please contact:
---
** Paul Eastham, Head of Global Corporate Communications on +44 0207 578 1130 or 07884 326 354 **
** Ritushri Dhankher, Press & PR Manager - India on 0124 262 4255 or 0991066 8238 **
Published 28 July 2010