News story
Visit to Somme Heritage Centre
The Minister of State for Northern Ireland, Andrew Robathan MP today visited the Somme Heritage Centre in Conlig, County Down.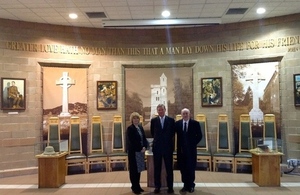 The Minister was given a guided tour of the facility by Chair of the Somme Association Dr Ian Adamson and Director Carol Walker.
Commenting on his visit, the Minister said:
I was delighted to have the opportunity to visit the Somme Heritage Centre this afternoon. The museum is more than a tourist attraction - it is an excellent educational facility and a moving tribute to the sacrifice of those who lost their lives at the Battle of the Somme.
I was impressed by the clear explanation of the historical context in Ireland at that time and the involvement of young men from both sides of the community in the 3 volunteer divisions raised in Ireland - the 10th and 16th Irish Divisions and the 36th Ulster Division.
I would encourage people of all ages to visit the Heritage Centre throughout this centenary year to learn about the important contribution of local volunteers during the Great War.
Published 28 February 2014