World news story
Visit of UK Parliament's International Development Committee
Members of the UK Parliament's International Development Committee are visiting Burma from 19 - 27 November 2013.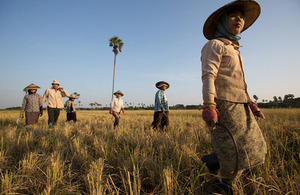 The purpose of their visit is to review the UK's aid work in Burma carried out by the UK's Department for International Development (DFID).
The UK government is supporting Burma's development through £60m ($95m) in bilateral aid in 2013-14 (up from £31m in 2010/11). UK aid provides maternal and child healthcare, humanitarian aid including in Kachin and Rakhine, and affordable credit to poor people to help increase their income from agriculture and other enterprises. DFID's work on good governance and public financial management will be a particular focus of the Committee's inquiry.
Given the rapidly changing environment in Burma, the Committee will also analyse how DFID's programme should develop in the future.
The Committee will meet and take evidence from a wide range of people in Burma. This includes Government Ministers, opposition leaders, ethnic leaders, representatives of local civil society, and business leaders. The Committee will travel to Rangoon, Naypidaw, Mandalay, and visit DFID projects in towns and villages in rural areas.
The IDC is a select committee of the UK Parliament. Select committees report and check on the work of government departments. Parliamentary scrutiny plays an key role in influencing the UK Government's work, and the IDC visit will be an important opportunity to review DFID's work in Burma.
Further information
For further information about the IDC and its inquiry on "Democracy and development in Burma" see the following websites
Press Office contact: PressOffice@dfid.gov.uk
Burmese translation of press release (PDF, 254KB, 2 pages)
Published 19 November 2013