World news story
Visit of Minister for Africa to Angola
This was published under the 2010 to 2015 Conservative and Liberal Democrat coalition government
Minister for Africa, Mr Mark Simmonds, second visit to Angola to Launch the High Level Partnership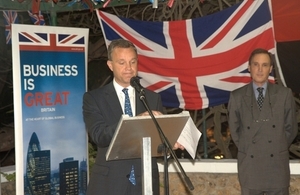 Minister for Africa Mark Simmonds visited Angola for the second time in a year last week to launch the High Level Partnership between the UK and Angola. He delivered, on behalf of the Foreign Secretary of the UK, a letter setting out the UK's hopes for the high level partnership.
He met with several senior representatives of the Angolan Government including the Vice-President, Minister of Foreign Affairs, the Minister of Industry, the Minister of Petroleum, the Minister of Construction, the Minister of Territorial Administration, the Minister of Trade, State Secretary for Foreign Affairs, and the State Secretaries for Energy and for Water to outline the key elements of the high level partnership. He also met with the President of the Sovereign Wealth Fund, the Governor of the National Bank of Angola, and representatives of companies from both the UK and other countries with significant commercial interests in Angola.
Speaking about the high level partnership at the Queen's Birthday Party (UK's national day) on 26 June at the British Ambassador's Residence, Mr Simmonds said:
"This is essentially us in government getting behind partnerships and providing them the support and impetus that they need to move forward even faster and more strongly.
It means looking at what more we can do to identify opportunities for UK companies to operate here, and helping them to do so. My officials in London have been meeting with the Angolan Embassy there to discuss the areas of co-operation that we can focus on to help UK companies overcome the challenges of working in an environment that is quite different.
It means looking for partnerships between UK companies and companies from other countries that are operating successfully in Angola and who can benefit from particular specialities that UK companies can offer – whether in financial services, education and skills or training, or in cutting edge engineering and project management.
It means creating an open dialogue where we can be frank with each other about the challenges that our companies are facing and looking for ways forward. Not because we know better or want UK companies to have special treatment, but so that we can understand the policy reasons behind particular processes and help identify solutions to obstacles that make it more difficult for businesses to operate here.
My hope is that a mutually respectful High Level Partnership will help us to understand each other better and facilitate even stronger co-operation in the future."
Mr Simmonds added that the objectives of the partnership were to: "move us forward from that phase of admiration of what has been achieved in the eleven years since peace broke out, to one of implementation of projects that, working together, will benefit both of us. Those benefits will be felt at every level, from those Angolans seeking opportunities for work and better living conditions, to Angolan institutions spreading their wings onto a global stage. For UK companies with world leading products to offer and UK educational institutions with experience and capacity to share."