World news story
Visit of British Prime Minister's Special Trade Envoy to Angola
Lord Marland, The Prime Minister's Trade Envoy, visited Angola on 8-9 October 2013.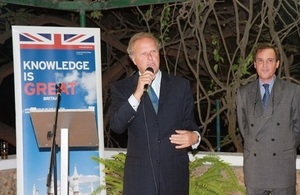 The purpose of his visit was to move forward the High-Level Partnership, launched by Mark Simmonds, Minister for Africa for the Foreign and Commonwealth Office, in June.
Lord Marland was accompanied by 19 companies/21 businessmen, the largest delegation ever of British investors to Angola, representing priority sectors for the High-Level Partnership such as construction, agriculture, education, and financial and professional services.
During his visit, Lord Marland met the Vice-President, the Ministers of Higher Education, Energy & Water, Agriculture, Construction and Industry, and Secretaries of State for External Relations, Trade, Transport, and Telecommunications & Information Technology. He also brought a message from the British Prime Minister, David Cameron, for President José Eduardo dos Santos, which highlighted David Cameron's support for the Partnership and included an invitation to visit the UK as a guest of the UK Government.
Lord Marland and his delegation attended a networking event organised by ANIP, the National Private Investment Agency. The Ambassador hosted a well-attended evening reception in honour of Lord Marland at his Residence.
Published 17 October 2013