World news story
Visit by Chilean experts to explore energy efficiency practices
This was published under the 2010 to 2015 Conservative and Liberal Democrat coalition government
Delegation representing the city of Antofagasta visited the UK to explore energy efficiency best practices and new technologies.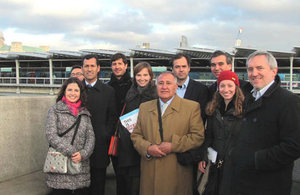 In January 2015, the British Embassy Santiago together with the Carbon Trust UK, Fundacion Chile, CREO Antofagasta and the University of Antofagasta accompanied regional and national authorities from the Energy, Environment and Housing ministries on a three day visit to the UK to explore best practices and new technologies in energy efficiency.
The visit was an essential component of the "Action Plan for the city of Antofagasta´s Sustainable Energy Strategy" project that the British Embassy Santiago is currently supporting through the Prosperity Fund . This project aims to facilitate the deployment of a sustainable, cost-effective and low-carbon energy strategy for Antofagasta particularly through the development of a portfolio of local renewable energy and energy efficiency initiatives.
Some of the visit highlights included a trip to Brighton to learn about one of 10:10 UK's Solar Schools, a tour from Network Rail of the world's largest solar bridge project at the Blackfriars London Tube station, and a presentation from Transport for London's Highways Manager on implementing energy efficient public lighting schemes.
New findings and knowledge gained from the visit will be used in finalising the development of several energy efficiency pipeline projects for Antofagasta in the coming months. To learn more information about the Antofagasta energy efficiency UK visit, please go to the Carbon Trust's webpage: "Sharing UK experience to set a sustainable future for Chilean mining city of Antofagasta".
Further information
Visit the CREO Antofagasta website to learn more about the Project.
For more information about this visit, contact Felipe Osses, Climate Change and Green Growth Officer, British Embassy, Santiago.
For more information about the events and activities of the British Embassy in Santiago, follow us on:
Document information
Published: 13 February 2015