News story
Vince Cable welcomes appointment of Trade Adviser
Commenting on the appointment, Business Secretary Vince Cable said: "I am delighted that Lord Brittan will be taking up this crucial new role…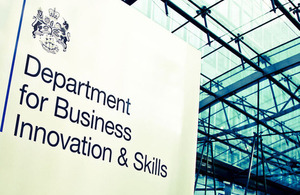 Commenting on the appointment, Business Secretary Vince Cable said:
"I am delighted that Lord Brittan will be taking up this crucial new role. This will send a much needed signal to our trading partners, be they developed or developing countries, that the UK is open for business.
"Lord Brittan will help develop the agenda to promote the UK as a great trading nation, wanting to see free trade and open markets around the world. He will provide valuable insight as we develop an overarching trade and investment strategy across Government."
Lord Brittan's findings will feed into a Trade White Paper to be produced by the Business Secretary. BIS will work with other government departments to ensure that trade policy, trade and development, trade promotion, export credit guarantees and other trade-related activities are reflected. It will act as a catalyst in reshaping the economy and supporting growth.
Notes to Editors
Lord Brittan of Spennithorne QC was an MP from 1974 to 1988. He served as Minister of State at the Home Office, Chief Secretary to the Treasury, Home Secretary and Secretary of State for Trade and Industry in Mrs Thatcher's Government. From 1989 to 1999 he was a member of the European Commission, and became Vice President as well as Commissioner responsible for International Trade. Since 2000 he has been Vice Chairman of UBS Investment Bank.
Lord Brittan will take up his position in September for a six month period.
Lord Brittan will take a six month leave of absence from UBS. As such he will be stepping down from all his responsibilities to the bank during that time.
BIS' online newsroom contains the latest press notices, speeches, as well as video and images for download. It also features an up to date list of BIS press office contacts. See http://www.bis.gov.uk/newsroom for more information.
Notes to Editors
Contact Information
Name BIS Press Office Job Title
Division COI Phone
Fax
Mobile
Email NDS.BIS@coi.gsi.gov.uk
Name Henry Tanner Job Title
Division Department for Business, Innovation and Skills Phone 020 7215 5947 Fax
Mobile
Published 19 August 2010