News story
Vince Cable visits Lancashire to see benefits of Regional Growth Fund
Lucite International which designs, develops and manufactures acrylic-based products was awarded £2.2 million in round two of the Regional Growth…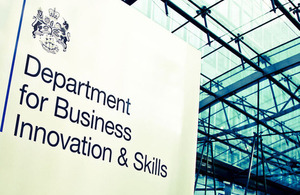 Lucite International which designs, develops and manufactures acrylic-based products was awarded £2.2 million in round two of the Regional Growth Fund (RGF). The project, to install a fourth production line facility at the company's Darwen plant, will protect and create a total of over 190 jobs with an additional 60 jobs created in the wider supply chain.
As part of his tour, Vince Cable also visited engineering firm WEC Group, which has benefitted from Regenerate Pennine Lancashire support - a local government partnership providing business support and access to local grants.
Regenerate Pennine Lancashire have been awarded £7.5 million from the Regional Growth Fund in round two to help manufacturing enterprises in Lancashire. The funding is expected to create 3000 jobs in the Lancashire supply chain and help firms to bring forward investment for expansion projects.
Business Secretary Vince Cable said:
"The Regional Growth Fund is doing a great job of supporting business and boosting British manufacturing - particularly in the North West. It was a pleasure to meet staff at Lucite International and see the construction of their new production line. I am confident that their new facilities will help them expand their UK production and create more jobs for the area - key objectives of the Regional Growth Fund.
"My visit to WEC Group shows the role that Government partnerships can play in helping manufacturing and local enterprise. Regenerate Pennine Lancashire clearly have the right knowledge and expertise to pick those firms that, with a bit of help, can attract private investment and unlock growth for the future. I look forward to seeing what other projects will benefit from their RGF award.
"The work of WEC Group also highlights the value of a skilled workforce including local apprentices. As they have shown, British manufacturing and quality engineering has a big role to play in domestic and international markets. I wish them every success for the future."
Lucite International Materials EAME General Manager, Rowena Sellens said:
"This investment reflects Lucite International's commitment to world class competitive manufacturing in our Darwen factory, which will ensure we maintain our leading European market position. The RGF grant award was a critical factor in securing the investment."
Regenerate Pennine Lancashire Chairman, Dennis Mendoros said:
"The Regional Growth Fund will enable us to help high-growth businesses like the WEC Group expand. This will allow our businesses to compete on a national and international basis, helping to create new jobs and opportunities for people as a result."
WEC Group Director, Wayne Wild said:
"It is great news to hear that local companies will have the opportunity to benefit from the Regional Growth Fund. The WEC Group applied for similar funding a few years ago and we haven't looked back since! The £142,000 grant we secured helped us invest in much needed extra capacity which has allowed us to create 40 new jobs in our Laser division and grow the business by over 30 per cent year on year. Investment is what guarantees sustainability for manufacturing companies, and any initiative aiming at boosting British Manufacturing should be praised."
**Notes to editors:
**1. The Regional Growth Fund (RGF) is a £2.4bn fund operating across England from 2011 to 2015. It supports projects and programmes that lever private sector investment to create economic growth and sustainable employment. It aims particularly to help those areas and communities which were dependent on the public sector to make the transition to sustainable private sector-led growth and prosperity.
More information on the Regional Growth Fund can be found here: http://www.bis.gov.uk/rgf

For more information about Lucite International please contact Gemma Blake at 01254 874387 or visit http://www.luciteinternational.com/

WEC Group is an example of how firms in Lancashire could benefit from RGF funding from Regenerate Pennine Lancashire. For more information about Regenerate Pennine Lancashire please contact Lucy at Blackburn Council or visit http://www.regeneratepl.co.uk/

For more information about WEC Group please contact Jean-Yves Dziki on 01254 773718 or visit http://www.wec-group.com/

The Government's economic policy objective is to achieve 'strong, sustainable and balanced growth that is more evenly shared across the country and between industries.' It set four ambitions in the 'Plan for Growth' (PDF 1.7MB), published at Budget 2011:
To create the most competitive tax system in the G20

To make the UK the best place in Europe to start, finance and grow a business

To encourage investment and exports as a route to a more balanced economy

To create a more educated workforce that is the most flexible in Europe.
Work is underway across Government to achieve these ambitions, including progress on more than 250 measures as part of the Growth Review. Developing an Industrial Strategy gives new impetus to this work by providing businesses, investors and the public with more clarity about the long-term direction in which the Government wants the economy to travel.
BIS's online newsroom contains the latest press notices and speeches, as well as video and images for download. It also features an up to date list of BIS press office contacts. See http://www.bis.gov.uk/newsroom for more information.
Notes to Editors
Contact Information
Name BIS Press Office Job Title
Division Department for Business, Innovation & Skills Phone
Fax
Mobile
Email bispress.releases@bis.gsi.gov.uk
Name Ed Smith Job Title
Division Department for Business, Innovation and Skills Phone 020 7215 5945 Fax
Mobile
Email ed.smith@bis.gsi.gov.uk
Published 2 August 2012