News story
Vince Cable toasts growth on the South Coast
The fourth terminal comes as part of a major investment by Associated British Ports (ABP) in the expansion of its vehicle export facilities …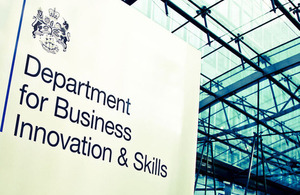 The fourth terminal comes as part of a major investment by Associated British Ports (ABP) in the expansion of its vehicle export facilities to accommodate the large amount of vehicles being shipped to overseas markets, particularly China. Last year UK automotive exports were up 15 per cent at an all time high of £29.5 billion in cash terms. ABP also announced today a further £7.5m investment to construct a fifth multi-deck trade vehicle terminal at the port.
The visit and announcement coincides with other investment by the Department's flagship policy - the Regional Growth Fund. Southampton City Council received a conditional offer of £5.6m as part of the second round to support the development of the city's surrounding road infrastructure.
As part of his visit to Southampton, Vince Cable will also visit Griffon Hoverwork Limited - a British owned 40 year old company and world leader in the design, manufacture and operation of Air Cushioned Vehicles (ACV) including hovercraft.
The company has 170 craft operating in more than 40 countries ranging from the humid jungles of South America and the dry heat of the Middle East to the High Arctic.
Griffon Hoverwork, which makes all its craft at the Southampton factory, has also enjoyed success in its exports. They recently worked with UKTI to secure a contract to supply India's Coast Guard service with 12 hovercraft worth approximately £34m.
Business Secretary Vince Cable said:
"The British car industry is a great success story and our increasing exports are proving a boon for the Port of Southampton - the opening of a new vehicle terminal along with provisional funding from the Regional Growth Fund for the City of Southampton's infrastructure will allow further growth for the future.
"The work of Griffon Hoverwork also highlights the value of a skilled workforce including local apprentices and undergraduates who are employed across a range of different disciplines. As they have shown, British manufacturing has a big role to play in exporting to international markets.
"There is still more to do but I am pleased to see that our work to support business and boost British manufacturing with schemes such as the Regional Growth Fund is helping local people unlock growth in their area and give a real boost to the economy. I should also remind businesses that they have until June 13 to submit their bids for round three of the Regional Growth Fund."
As part of the visit the Secretary of State will also meet Doug Morrison, ABP Port Director Southampton and Chair of the local enterprise partnership (LEP). The LEP, in partnership with Portsmouth City Council and local newspaper The News, was awarded £2.1m as part of the Regional Growth Fund.
The funding is for a project to run a competitive programme for their local area to award micro-finance and small business grants (£5k to £100k) to create new business start-ups, and allow existing businesses to grow. This will create some 120 jobs in the area.
The Daedalus SME Marine and Aviation grant scheme based at the Daedalus Enterprise Zone, a former MOD base near Gosport, has also been conditionally awarded £3 million from the Regional Growth Fund which will help to create new and safeguard private sector jobs.
The scheme will support up to 20 businesses by targeting business growth and improvements for existing occupants of the business park and for companies wishing to expand onto the park. The grant scheme will be delivered through Gosport Borough Council and delivered by Solent LEP.
**Notes to editors:
**1. The Regional Growth Fund is a £2.4 billion fund designed to support businesses with projects that will create jobs in areas dependent on the public sector and will be supported by private sector investment. The £1 billion third round of the fund is open to bids now. The deadline is noon on 13 June. More information can be found at www.bis.gov.uk/rgf/
For more information on the Regional Growth Fund, including summary details of bids in the first round (total number, collective value etc) please visit: http://www.bis.gov.uk/policies/regional-economic-development/regional-growth-fund

For more information about Associated British Ports please contact Beth Evans on 02380 488844

For more information about Griffon Hoverwork please contact Selina Coombe on 02380 686747 or visit www.griffonhoverwork.com

BIS's online newsroom contains the latest press notices, speeches, as well as video and images for download. It also features an up to date list of BIS press office contacts. See http://www.bis.gov.uk/newsroom for more information.
Notes to Editors
Contact Information
Name BIS Press Office Job Title
Division Department for Business, Innovation & Skills Phone
Fax
Mobile
Email bispress.releases@bis.gsi.gov.uk
Name Ed Smith Job Title
Division Department for Business, Innovation and Skills Phone 020 7215 5945 Fax
Mobile
Email ed.smith@bis.gsi.gov.uk
Published 7 June 2012