Vince Cable speech: Innovate 2011, Design Centre, Islington
It's encouraging to see Great British innovation on display and the focus of serious discussion. This event provides a clear demonstration of…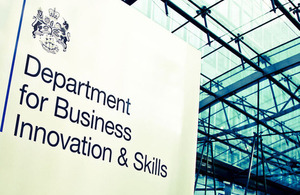 It's encouraging to see Great British innovation on display and the focus of serious discussion. This event provides a clear demonstration of the talent and the creativity we have in this country.
Economists disagree on many things. But there is clear consensus that, in mature economies, all long-term economic growth processes depend on innovation: that is, applying new technologies in an economically productive way. There is science. There is invention. Combining and applying them is what innovation is about.
There are obvious examples - in pharmaceuticals with GSK, in aviation with Rolls Royce, or in offshore engineering - where British-based firms in the oil and gas industry lead the way in innovation. Yet innovation also involves the ongoing development of products and processes in what might be seen as humdrum industries. My favourite example is Brompton Bikes in Brentford - a world-beating bicycle maker which stays ahead of its low-cost competitors through creative innovation. I encountered another last Friday - a fast-growing firm, Tech 21, that's based on Eel Pie Island in my Twickenham constituency. It has patented a series of products based on a new material with the texture of Plasticine but the power to withstand shocks; it is now used for the casing of handheld computers.** **
---
Innovation isn't always an easy concept to grasp, but when we learn about practical examples of knowledge transfer,** **we can appreciate what it means in the real world. So congratulations to this year's Knowledge Transfer Partnership winners, Queen's University Belfast, Cherry Pipes of Dungannon, and their associates, Paul Beaney and Justyna Grabowska. Through working with the Polymer Processing Research Centre at Queen's on recycling materials for use in its drainage systems, Cherry Pipes has become one of the UK's largest plastics recycling companies.
Innovation often centres on engineering skill. But it also involves design. There are lots of crossovers between creative industries and manufacturing, Dyson's vacuum cleaners being a good example. The alumni of the Royal College of Art are an eclectic collection of artists and engineers whose combined skills lie behind a remarkable amount of successful British Innovation.
The main policy question is what governments should do to promote innovation. There is a recognised role for government in supporting basic scientific research, as we are doing. Similarly, there's a role in the establishment of core standards, as with measurement. Our job is also to make sure that there is a supportive intellectual property rights regime - which is why we have accepted and are implementing the Hargreaves recommendations - and decent infrastructure, hence the recent decision to invest £145m in high performance computing.
But governments are rightly nervous about picking winners. When revolutionary new products emerge with bewildering speed, like the iPad or the Kindle, the market is the place to sort out which innovations will succeed, not ministers.
Nevertheless, there is a space between pure science and commercial application, where markets will not deliver. There are big, breakthrough technologies, which are either too risky or have such wide ramifications that individual companies are unlikely to develop them.
In the field of renewable energy, we simply do not know whether, in the long run, the most cost-effective low-carbon technologies will be in wind or wave power, in tidal or solar, in nuclear fission or fusion, in hydrocarbons or biomass. So, we have to support innovation across a portfolio of options.
In making these choices, it is crucial that decisions are not made on the basis of political whims or prejudiced by commercial vested interests. That is why we are reliant on the expertise of the Technology Strategy Board, an arms-length public organisation working alongside business. I decided last year, when we were working through the Spending Review, to set up a series of Technology and Innovation Centres chosen by the TSB - not me - to act as a focal point of public support for breakthrough technologies.
Technology and Innovation Centres will provide leading-edge facilities, where ideas generated by academic-commercial partnerships can be developed and prepared for market.
Today, I am pleased to confirm that the first of the TICs - with a focus on high-value manufacturing - is now open for business, with public investment of more than £140 million over six years.
The manufacturing TIC comprises a network of seven facilities, ready to help advance concepts in the fields of photovoltaics, biochemicals and composite materials, among others. They will allow businesses and research groups to build prototypes, use large-scale clean rooms or develop virtual environments to assist product design.
There is a clear rationale for backing innovation in manufacturing. The sector contributes disproportionately to UK productivity and exports.
My second announcement today also encompasses the work of the Technology Strategy Board, this time in concert with the Office for Low Emission Vehicles.
Throughout the economic crisis, the motor vehicle industry has been a success story in adversity, whether it's Jaguar Land Rover investing £355 million in a new engine plant in Wolverhampton, BMW investing £500 million in UK production and building the new MINI here, or Nissan choosing to design, develop and make the next-generation Qashqai in this country.
The UK car industry can, and should be, at the forefront of innovation, which is why - in the New Year - we're making an additional investment of up to £15 million in projects to accelerate the commercialisation of low-carbon vehicles.
Already, the low-carbon vehicles programme is achieving encouraging results. Axeon, for example, a company based in Dundee, has developed a battery which gives a 35 per cent improvement in range compared to existing technologies, while the programme's very existence played a significant role in Nissan's decision to base production of the entirely electric LEAF model and other batteries in Sunderland.
My third and final announcement is to launch a new TSB-led competition to support enabling technologies that often underpin meaningful innovations. The investment - worth up to £18 million - is designed to stimulate collaborative work in areas such as advanced materials and nanoscale technologies, with some funding for ideas yet to find a potential application in any recognised market or business sector. These might include new techniques for gathering and interpreting biological data, or novel materials that can withstand aggressive environmental conditions, such as extreme heat or corrosion.
But there's more to innovation - Government actions consistent with economic growth more broadly. A coherent approach must also involve macroeconomic stability and open, competitive markets. It must provide optimal conditions for R&D conducted predominantly by the private sector - by improving regulatory frameworks and making best use of the state's purchasing power. Which is why the Government is preparing an innovation and research strategy.
We're asking a number of questions. How can the public sector become a more significant driver of innovation? How we can improve the mobility of smart people between business and the research base? What challenges - and indeed opportunities for international collaboration - arise from the rise of the BRIC countries and others?
The expertise of many people in this room will inform the final document, but you already do much more than that. As we build on existing technical strengths which are not being fully realised and help to develop others; as we get more inventions out of the lab and on to the shelves, the products and ideas generated by exhibitors here are some of the best ammunition we have to convince people of Britain's genuine potential.
So I thank you for your efforts to date, and I reaffirm the Government's commitment to making your innovation and entrepreneurialism the basis of this country's long-term success.
Note to Editors
BIS's online newsroom contains the latest press notices, speeches, as well as video and images for download. It also features an up to date list of BIS press office contacts. See http://www.bis.gov.uk/newsroom for more information.
Notes to Editors
Contact Information
Name BIS Press Office Job Title
Division COI Phone
Fax
Mobile
Email NDS.BIS@coi.gsi.gov.uk
Name Dan Palmer Job Title
Division Department for Business, Innovation and Skills Phone 020 7215 5303 Fax
Mobile
Published 11 October 2011