Press release
Vince Cable – Progress still to be made on all-male boards
Business Secretary Vince Cable writes to the last seven FTSE 100 firms with all-male boards urging them to increase women in the boardroom.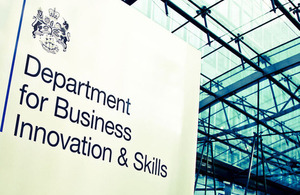 Business Secretary Vince Cable has today (30 January 2013) written to the Chairman and CEOs of the last seven FTSE 100 firms with all-male boards, urging them to take action to increase the number of women in the boardroom.
The letter from the Business Secretary comes on the back of the announcement by Randgold Resources that Jeanine Mabunda Lioko has joined its board as a non-executive director.
He has asked the remaining companies, Antofagasta, Croda, Glencore, Xstrata, Kazakhmys, Melrose and Vedanta, to explain what steps they have taken to increase their female board representation and how they plan to make their boardrooms more diverse. The number of all-male FTSE 100 boards has fallen from 21 in 2010.
Business Secretary Vince Cable said:
Over the last two and a half years we have seen real progress in the number of talented women reaching the boards of our top companies. During that time the number of all-male boards has fallen from 21 to the last seven remaining today, with the welcome news from mining giant Randgold being the latest step. My vision by 2015 is that Britain will not have a single FTSE 100 board without a significant female presence.
Businesses should be making sure they have the right people around their top table. This is not about equality, this is about good governance and good business. The international evidence supports this: diverse boards are better boards benefiting from fresh perspectives, opinions and new ideas which ultimately serve the company's long term interests.
I do recognise that for some businesses, like those in the mining and extractives industry in particular, there are unique challenges in diversifying their boards with the right experience. The frequent travel and project based work in remote areas of the world have all been cited as barriers to appointing more women in the past. However, successful modern companies learn to adapt and survive and doing nothing is not an option anymore. We've seen examples again today that this can be done and I am determined to see further action.
In line with the efforts to increase boardroom diversity, last week Vince Cable announced that three of the five appointments to the Business Bank Advisory Group will be female. In addition, he also announced that Dale Murray was the latest female non-executive appointment to the Department for Business, Innovation and Skills' Departmental Board. Seven of the 21 attending the Departmental Board, and four of the nine attending the Executive Board, are female.
Notes to Editors
Vince Cable announced on 22 January 2013 the appointment of Lucy Armstrong, Chief Executive of the Alchemists, chair of the CBI's SME Council and chair of Capital for Enterprise Limited, Caroline Green, Finance Director at Metalrax Group and Baroness Patience Wheatcroft, non-executive director of Fiat SpA and of St James's Place Plc, and advisory board member of Huawei Plc and Pelham Bell Pottinger are to join the Business Bank Advisory Group. They are to be joined by Stephen Welton, Chief Executive of the Business Growth Fund plc and Brendan Barber, former General Secretary of the TUC.
Dale Murray, an angel investor since 2006 and winner of British Angel Investor of the Year 2011, joins the Departmental Board as the fifth non-executive member.
In February 2011 Lord Davies of Abersoch published his report Women on Boards which set out a strategy aimed at ensuring that more women were appointed to boardroom positions. He asked all FTSE 350 companies to set targets for the number of women they expected to have on their boards and executive committees in 2015. Lord Davies recommended that FTSE 100 boards should aim for a minimum 25% female representation on their boards by 2015. Lord Davies will publish an annual progress report later in the spring of 2013.
The UK welcomes the European Commission's decision not to impose mandatory quotas for women on boards. The Government remains fully committed to increasing women's representation in UK boardrooms, but along with like-minded Member States, have consistently argued that measures are best considered at national level.
The government's economic policy objective is to achieve 'strong, sustainable and balanced growth that is more evenly shared across the country and between industries'. It set four ambitions in the 'Plan for Growth' (PDF 1.7MB), published at Budget 2011:

To create the most competitive tax system in the G20
To make the UK the best place in Europe to start, finance and grow a business
To encourage investment and exports as a route to a more balanced economy
To create a more educated workforce that is the most flexible in Europe.

Work is underway across government to achieve these ambitions, including progress on more than 250 measures as part of the Growth Review. Developing an Industrial Strategy gives new impetus to this work by providing businesses, investors and the public with more clarity about the long-term direction in which the government wants the economy to travel.
Published 30 January 2013