News story
Vince Cable presents honours to fashion and construction champions
Ray O'Rourke was awarded an honorary Knighthood in recognition of his services to the construction industry in the United Kingdom. Ray's outstanding…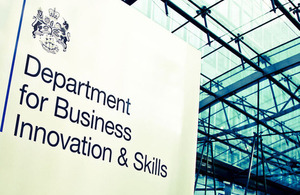 Ray O'Rourke was awarded an honorary Knighthood in recognition of his services to the construction industry in the United Kingdom.
Ray's outstanding contribution to the industry spans more than thirty years, beginning when he moved from Dublin to England in 1966. He founded R O'Rourke & Son with his brother in 1977 and acquired the construction arm of John Laing plc in 2001. Laing O'Rourke is now an important international company, responsible for some of the world's most iconic buildings.
Vince Cable said:
"Ray is widely respected across the construction industry as a leader of real stature. He has been a long-standing champion of the Government's construction industry improvement plan; demonstrating committed leadership, a focus on the customer and a quality-driven agenda.
"His use of lean construction methods and offsite manufacturing has eliminated waste and maximised efficiency. Coupled with his commitment to training people, this has helped Laing O'Rourke weather the downturn and serve as an exemplar for the rest of the industry. I'm delighted to present Ray with this important and hugely-deserved honour."
At the same ceremony, Orla Kiely received an Honorary OBE in recognition of her contribution to British business and the UK Fashion Industry.
From a start-up company in the mid-nineties, the Orla Kiely label is now sold around the globe and has crossed over into many fields including clothing, accessories, home furnishing and even automotive. The business, Kiely Rowan Plc, has won four Fashion Export Awards.
Orla generates significant funds for a number of charitable causes, including Maggie's Cancer Care Centres and Target Breast Cancer. Her company's bursary fund assists talented students at The Royal College of Art and she promotes new talent and education through her work as a judge and mentor for Graduate Fashion Week. She is also a Visiting Professor to the Department of Textiles at the Royal College of Art.
Vince Cable said:
"I'm delighted to present Orla with this richly-deserved Honour in recognition of the outstanding contribution she has made to both the British economy and culture.
"As well as the exceptional design concept she has created, I've been particularly grateful to Orla for taking the time to be a guest speaker for UK Trade & Investment, sharing her impressive business acumen with designers who are new to exporting and helping them overcome barriers to trade. In short, she has played a huge part in the British design world."
The ceremony took place at 1 Victoria Street and was followed by afternoon tea with the recipients' families and friends.
Notes to editors:
Non-British citizens are not entitled to receive their honour from the Queen at Buckingham Palace and are presented with their awards by the relevant Secretary of State instead**

Photos from the Awards Ceremony will be freely available to download from http://www.flickr.com/photos/bisgovuk/**
---
Biography: Ray O'Rourke
Ray studied Civil Engineering at Dublin Institute of Technology, leaving Ireland in July 1966 to work in England. He was employed by Kier Plc from 1968 to 1970, and J Murphy & Sons from 1970 to 1978. In 1977 he founded R O'Rourke & Son with his brother Hugh, starting trading the following year.
In 2001 the company acquired the construction arm of John Laing plc to create the current £4 billion International business.
Ray plays a major role in the strategic direction and management of Laing O'Rourke and his influence is felt at every level of the company.
The business is made up of a range of engineering, construction and specialist services companies working across Europe, the Middle East, South Asia and Australasia.
Laing O'Rourke has a track record of managing, constructing, upgrading and maintaining some of the world's most complex and valuable built assets. The company has been an early adopter of modern methods of construction that save money, reduce project risks and ensure completion to deadlines.
In 2002 Ray won Construction Industry Personality of the Year at the Building Magazine Awards.
Biography: Orla Kiely
Orla Kiely began her career studying at Dublin's National College of Art and obtained her Master's degree from the Royal College of Art in London. In 1997 The Orla Kiely Partnership was formed with her husband Dermott Rowan. **
In 2004 Orla was awarded the Irish Tatler Irish Woman of the year and in 2008 she was named one of HBOS 100 most entrepreneurial women. In 2009 she was a finalist in the Ernst & Young Entrepreneur of the Year Awards. She has also judged on several occasions for the UK Graduate Fashion Week Industry and Media Awards.
Orla's industry consultancies include designing ceramics/wallpaper for Habitat and sitting on the Dulux Design Council. She has designed three capsule collections for the Tate and has collaborated with Target in the USA. She has also designed a limited edition car for Citroen, launched in 2011.
Orla has won four UK Fashion Export Awards, including the Gold award.
Her London flagship store and showroom opened in September 2005 in Covent Garden and she opened a second store on the Kings Road in 2010. The Orla Kiely worldwide flagship store will open in New York in 2011.
In 2008 Orla launched an exclusive range in support of Fashion Targets Breast Cancer. In 2009 she launched a bag and wallet with Maggie's Cancer Charity and in 2011 she designed a bag for life for Tesco, with all proceeds going to charity.
BIS's online newsroom contains the latest press notices, speeches, as well as video and images for download. It also features an up to date list of BIS press office contacts. See [http://www.bis.gov.uk/newsroom](http://www.bis.gov.uk/newsroom) for more information.
Notes to Editors
Contact Information
Name BIS Press Office Job Title
Division COI Phone
Fax
Mobile
Email NDS.BIS@coi.gsi.gov.uk
Published 6 July 2011