News story
Vince Cable meets with business leaders of the G8
Business leaders from the G8 countries meet to discuss industrial strategy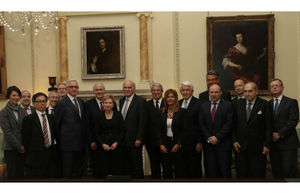 Business Secretary Vince Cable met the leaders of the business federations from the G8 countries yesterday to discuss Britain's approach to industrial strategy. This followed a positive meeting with the Prime Minister on the G8 agenda on Trade, Tax and Transparency, and was the first major event in the run up to the G8 summit at Lough Erne in June.
The leaders were interested to hear about Britain's approach to creating a long-term vision for business confidence. Dr Cable talked about developing strategic partnerships for targeted sectors, as well as ensuring support for issues that affect all businesses, such as skills, access to finance, technologies and procurement.
The group shared their experiences of working with governments in their own countries. All highlighted common challenges in ensuring that education provides the right technical skills for jobs and growth in a fast changing world.
The B8 issued a supportive statement, thanked the British government for consulting with business and said they hoped this would become standard practice in the future
Follow the Twitter channel for the UK Presidency @G8 or follow #G8UK
Published 22 May 2013