News story
Vince Cable - Königswinter Conference 2010 Speech
It is a pleasure to be at the Konigswinter Conference today. It is 60 years since its inception and the event has played an important role in…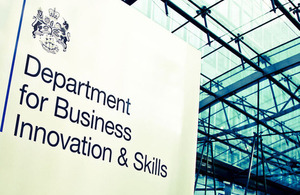 It is a pleasure to be at the Konigswinter Conference today. It is 60 years since its inception and the event has played an important role in cementing the Anglo-German relationship. It is also a good to be joined here today by Herr Bruderle who represents our sister party in the FDP in the German coalition, and I am looking to him for private advice on how to manage coalition politics. He also has a ministry with a similar role to mine and, as we discussed when we last met, have the same agenda: "growth-friendly deficit reduction".
More widely, the UK has much common ground with Germany - many areas of agreement and the odd disagreement. But as we are finding in the Coalition, it is possible to have differences and still be friends.
First of all, let's be clear about how integrated our two countries and economies are. After the US, Germany is the UK's second biggest trading partner and has in recent years been our second biggest inward investor. More than 3,000 German firms are active in the UK, employing almost 400,000 people. In Germany, 1,000 British firms employ 180,000 people.
In some ways we are converging. The UK aspires to the export-led growth exemplified by Germany. The German economy, in the meantime, has accepted the role of flexible labour markets - which we believe, in the UK, helped us to avoid more extreme impacts on unemployment of the recent economic crash. We both boast world class science and research bases, but we have a lot to learn from Germany. I am particularly interested in the good work done by your Fraunhofer technology centres.
On EU trade policy, our countries both believe in the importance of open markets, which is the best way to help increase global economic welfare and reduce global poverty. There is an important window of opportunity for concluding the Doha Round in 2011, which we must not miss, although it will be difficult. To do this, we need to make real progress ahead of the Seoul G20 summit, so that leaders can set out at Seoul the way forward to concluding the Round. At present the obstacles to progress are mainly in the US but a successful Round will involve bigger concessions from the EU, especially in agriculture. How realistic do we believe the proposals to be of concluding the Round?
There are pressures to press ahead in the meantime with bilateral agreements. These are sub-optimal but are one way of making progress in freeing trade. After Korea the next candidate is Mercosur, and the Brazilians impressed on me two weeks ago their serious interest. The deal is better EU access for South American agriculture in return for better access there in services, manufacturing and public procurement. Is that doable?
We believe there needs to be greater discipline on the EU budget and we need to work together on reform. The EU budget and gross contributions are increasing, at a time when Member States are least able to afford it. With big spending cuts in prospect in the UK there will be real public anger if the EU budget, and our contribution, are not cut also. How can we work together so that the budget is smaller and can contribute to fiscal consolidation? And how can we best reform the budget to reduce waste and ensure a focus on those areas where action at the EU level adds genuine value?
It might be useful too, to discuss issues where we may have a difference, or difference in emphasis. It is helpful on a political level to be sharing the pain of fiscal consolidation but economically there must be concern that EU countries are exporting deflation to each other through collective fiscal tightening. There is a case for a differentiated approach, dependant on country circumstances, and also for recognising that there are structural imbalances reflected in the current account, given the lack of flexibility in monetary and fiscal policy.
Europe urgently needs supply side reforms to improve its growth prospects - potential growth across the EU is forecast to recover to just 1.7% by 2014. What specifically can we do to accelerate this process? How realistic is it to inject new dynamism through a fresh opening up of the EU Single Market as Mario Monti has proposed?
These are tricky issues, and there are others, but I hope we shall receive good, creative feedback. And I very much look forward to future meetings, the next in Germany.
Notes to editors
BIS' online newsroom contains the latest press notices, speeches, as well as video and images for download. It also features an up to date list of BIS press office contacts. See http://www.bis.gov.uk/newsroom for more information.
Notes to Editors
Contact Information
Name BIS Press Office Job Title
Division COI Phone
Fax
Mobile
Email NDS.BIS@coi.gsi.gov.uk
Name Henry Tanner Job Title
Division Department for Business, Innovation and Skills Phone 020 7215 5947 Fax
Mobile
Published 16 September 2010