Press release
Vince Cable in Russia to launch biggest ever push to get UK companies exporting
Business Secretary is in Russia today (11 November 2013) on a trade visit with over 30 British companies to boost growing economic links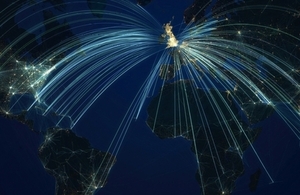 Export Week will see almost 100 events for small businesses across the UK
launch of national campaign targeting 700,000 firms
new $50 million fund to help small businesses export to Russia
The Business Secretary is in Russia today (11 November 2013) on a trade visit with more than 30 British companies to boost the fast growing economic links between the 2 countries.
Between 2009 and 2012, exports of goods and services to Russia have grown by over 75% from £4.3 billion to £7.6 billion.
Vince Cable's visit is part of Export Week which will be the biggest ever with 5,000 businesses expected to take part in events across the country. The week forms part of the government's work to raise the number of UK firms that export from a fifth to a quarter.
A new national campaign, Exporting is GREAT, will also start today targeting almost 3 million people to generate 3,000 appointments with UK Trade and Investment (UKTI) advisers and drive £1.2 billion in export revenue.
With businesses earning £100,000 on average in additional sales within 18 months of working with UKTI, there is significant growth potential for individual companies.
Business Secretary Vince Cable said:
British small and medium sized businesses are the lifeblood of our economy. Many are doing incredible things and selling their services and products abroad. But too many do not realise their global potential.

I am in Russia this week launching the biggest ever drive to encourage SMEs to export - Exporting is GREAT. This campaign will help us reach the many businesses across the country that are ready to export and grow but have yet to take the plunge.

This can be a big step for many businesses and the government's expert international trade advisors will guide companies every step of the way, with practical advice and support to find international customers.

This week I am joined in Moscow by a delegation of over 30 fantastic British businesses across construction, manufacturing and retail sectors. British exports to Russia have almost tripled in the last ten years, with around 600 UK companies currently operating in the country. The opportunities here are huge for British business - that's why we're also investing in a $50 million fund to help British small businesses export to Russia.
The business delegation accompanying Vince Cable to Moscow will be made up of 31 UK companies from a range of sectors, including many small and medium sized businesses (SMEs).
Many of these SMEs have benefited from London 2012 such as Populus, Snoozebox, Turner and Townsend, and Wembley Stadium Consultancy, and will now be targeting opportunities around the FIFA World Cup in Russia in 2018.
New trade deals announced during Vince Cable's visit to Russia include:
UK Export Finance will sign a deal with Alfa Bank to set up a $50 million line of credit for UK SMEs to export to Russia. This will help provide medium term loans on favourable terms to Russian buyers of UK SME export contracts

UKTI is setting up an investment operation in Russia, which will operate across 10 cities from this month. This program will run for 18 months to build an investor base and sustainable investment pipeline to the UK

Liverpool Vision is signing an memorandum of understanding (MOU) with the Russians around the promotion of regions for business. They expect a Russian delegation will attend their International Festival for Business in 2014

Architects AFLS+P has just completed the first stage of the contract to design a 45,000 seat stadium for Kuban FC in the city of Krasnodar. The stadium will be the home to Kuban FC, and will be capable of hosting FIFA events

Chartered Institute for Securities and Investment (CISI), is signing an MOU with the Financial University of the Russian Federation to promote practical activities around professional business qualifications between the 2 institutions

the Energy Services & Technology Association (ESTA) will be signing an MOU to share best practice in energy management with Russia's national association of energy auditors
Speaking at the launch event for Exporting is GREAT in Birmingham, Trade & Investment Minister Lord Green said:
The Made in Britain brand is sought after across the world and many UK businesses are already taking advantage of this but we want more to follow.

Through Export Week and the Exporting is GREAT campaign we will strengthen the momentum of the Prime Minister's challenge.

The UK's future prosperity will not come from relying on domestic markets alone. Businesses excel with UKTI's support and we want to make sure that UK firms are not just trading abroad but thriving there and competing with the best the rest of the world has to offer.
In addition to the regional events held across the country a UK Trade & Investment (UKTI) roadshow will visit 8 regions and feature more than 130 UKTI experts who will share their exporting experiences with companies. The roadshow will prepare UK companies to enter the global market, give advice on marketing to international clients and run workshops on the markets with the greatest potential for each region.
Notes to editors:
1.In November 2011 the Prime Minister and Lord Green launched the National Challenge - a major initiative to boost the number of SMEs that export - setting the target of getting up to 100,000 SMEs to either start exporting for the first time or spread to new markets over the next 5 years.
2.Exporting is GREAT will reach almost 3 million individuals and 700,000 businesses with more than 4 employees, giving them a very specific call to action: to contact UKTI to find out more about exporting. It is intended to generate over 3000 appointments with UKTI International Trade Advisers, giving small businesses direct access to expert advice, support and finance to help them export. The campaign will cost £2.4 million and drive £1.2 billion in incremental export revenue from the leads it generates. The campaign creative features 2 SMEs who have grown their business internationally as a result of UKTI advice. Their case studies are available from the UKTI press office. For more information, SMEs should go to www.greatbusiness.gov.uk/ukti or call 0800 093 2094.
3.Export Week is a major component of the National Challenge and is part of a concerted campaign led by Lord Green to increase the number of British companies that export, from current levels of around 20% to 25% or more. By increasing the number of companies that export by roughly a quarter, about £36 billion could be added to the UK economy. Any company wanting to take part in Export Week can get involved by visiting the dedicated website at www.exportweek.ukti.gov.uk which gives details of events in each area.
4.In the 2012 Autumn Statement, UKTI was awarded an additional £70 million for each of 2013/14 and 2014/15, enabling the recruitment of more international trade advisers around the country, expansion of existing services including the Trade Access Programme (TAP) and the Overseas Market Introduction Service (OMIS), and support to expand the range of assistance available to UK companies through overseas British chambers of commerce.
5.The government's economic policy objective is to achieve 'strong, sustainable and balanced growth that is more evenly shared across the country and between industries'. It set 4 ambitions in the 'Plan for Growth', published at Budget 2011:
to create the most competitive tax system in the G20
to make the UK the best place in Europe to start, finance and grow a business
to encourage investment and exports as a route to a more balanced economy
to create a more educated workforce that is the most flexible in Europe
Work is underway across government to achieve these ambitions, including progress on more than 250 measures as part of the Growth Review. Developing an Industrial Strategy gives new impetus to this work by providing businesses, investors and the public with more clarity about the long-term direction in which the government wants the economy to travel.
6.UK Trade & Investment (UKTI) is the government department that helps UK-based companies succeed in the global economy. We also help overseas companies bring their high quality investment to the UK's economy – acknowledged as Europe's best place from which to succeed in global business. UKTI offers expertise and contacts through its extensive network of specialists in the UK, and in British embassies and other diplomatic offices around the world. We provide companies with the tools they require to be competitive on the world stage. For more information on UKTI, visit www.ukti.gov.uk or visit the online newsroom at www.ukti.gov.uk/media.
Published 11 November 2013