News story
Vince Cable - EU growth speech, Bucharest, 29 September 2011
It's a pleasure to be visiting Romania, and to be here today to discuss the challenge facing every member of the European Union - how to secure…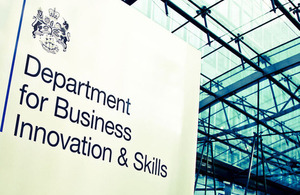 It's a pleasure to be visiting Romania, and to be here today to discuss the challenge facing every member of the European Union - how to secure long-term, sustainable economic growth.
The recent turmoil in global financial markets, triggered by fears over Eurozone sovereign debt levels and gridlocked fiscal policy in the US, has made a solution to this question more urgent then ever.
The international economy has been buffeted by a series of storms ever since the decade-long credit binge spectacularly ended in 2008 with the near collapse of the global financial system.
Wholesale bank sector bail-outs, the recession, and anaemic growth since then have sent the price of government debt in some European countries soaring. These markets remain volatile and the threat may yet spread further afield.
And Europe has real structural problems. Productivity is shrinking. Our average growth rate is lower than the US. And we are all sitting on a time bomb, with ageing populations and too many people out of work.
Without a concerted programme of reform to tackle these issues and create the conditions for sustainable growth, the outlook for the EU economy is uncertain, to say the least. In the worst case scenario, the entire EU project could be derailed - with disastrous consequences for us all.
But, the good news is that Europe has some competitive advantages. Some of the most highly-skilled workers in the world; centres of technological brilliance; and, let's not forget, the world's largest single market.
Romania's strengths
Romania, in common with every other European nation, has had to deal with the effects of the global economic turbulence.
But in the early years of this century, the economy here was characterised by high growth, low unemployment and declining inflation - a testament to the economic reforms that were implemented in the wake of the collapse of Communism, which in Romania was more centralising and uncompromising than in the rest of Eastern Europe.
More recently, authorities have earned international credit for its handling of the recession - indeed, Romania's rating was restored to investment grade [BBB- from BB+] by Fitch in July.
These efforts, which have involved some difficult decisions, are creating a platform for future economic growth and stability. One that will enable Romania to attract domestic and foreign investment by capitalising on its assets, including…
a young, well trained and educated work force, among whom English is widely spoken- this morning I met a group of British businesses and every single one of them praised the quality of the Romanian workforce;
a strategic location offering access to countries of the former Soviet Union, the Balkans, the Middle East and Northern Africa;
a domestic market of 22 million consumers.
and a coherent, respected economic policy.
More than 4,000 UK companies have seen the opportunities that exist in Romania and have a presence here. But this is not one-way traffic: last year, bilateral trade in goods between our countries was worth over £1.9bn. Around £1.2bn of that were imports from Romania to the UK.
And British companies have created new jobs in Romania despite the recession, notably in the software, pharmaceuticals and telecommunications sectors. For example, over the last three years Provident has increased its workforce from 300 to 600; while Endava has just announced it will increase its workforce within Romania so that by next June it will employ 1000 specialist IT workers.
Moreover, I hope you will recognise that the UK has been a leading partner for Romania, supporting its government on improving the investment climate - including the campaign against corruption and judicial reform.
But Great Britain is more than a partner for Romania in business. We have a world class education system with four of the top ten universities in the world and many young Romanians studying there. They will be amongst Romanian leaders and innovators of the future. Britain leads the way on research and innovation. British ideas and inventions have helped shape our world, from the Steam Engine to the World Wide Web. And these are achievements that benefit everyone of us today, both in the UK and Romania.
In addition to our bilateral relationship, Romania and the UK, as fellow members of the European Union, have a common interest in ensuring that the EU faces up to the structural barriers to growth that threaten to hold back our economies if left untouched.
EU growth initiative
This is as big an issue for the UK and for Romania as it is for members of the Eurozone. Around half of all UK exports go to other EU countries, and they account for over half of our inward investment.
Similarly, EU membership is a critical growth opportunity for Romania. So European stagnation means fewer exports, lower growth and higher unemployment for both our countries. We all stand or fall together.
That's why we have to get on with the structural reforms necessary for growth. The Commission's 'Europe 2020' strategy is a good start - but the current economic climate means we have to go much further, much faster.
The immediate issue is to resolve the crisis in the Eurozone. But neither of our countries is a member so we can only influence indirectly. Suffice to say that a collapse of the Eurozone would be a disaster for us all. There is also a need for sound macroeconomic policy to stimulate growth while maintaining financial stability. Macroeconomic policy only provides growth for a couple of years. We need to tackle the deeper, longer term problems. Supply-side reforms also have to happen, and are overdue. This recognition motivated the British Prime Minister's EU growth initiative, which was launched in March, and which he discussed with the Romanian President in London in June.
Let me make clear that the initiative is not designed merely to suit the interests of a mature market economy like the UK: it will also benefit Romania's economy, with its substantial growth potential.
After all, the EU is the largest market for Romania's exports. The slowing rate of European growth has already led some analysts to consider cutting their growth predictions for this country next year.
Clearly then, it is essential for Romania that the EU achieves and maintains a sustainable growth rate. That requires concerted efforts, at both national and EU level, to boost investment in research and development; increase exports; cut regulation; and reduce operating costs for small businesses.
The Romanian government's plans to reform the public sector, and support more small businesses by offering subsidised loans, are entirely consistent with the UK's initiative on growth. We are also exercised by the problem of bank lending to smaller companies. So I welcome Romania's support for it, and hope our countries will collaborate on this shared agenda in the period ahead.
Future co-operation
I am confident we share common ground in many areas of relevance to Europe's future growth. In many respects governments must act domestically. We in Britain do not favour a one size fits all model and in areas like tax and social policy believe in maximum subsidiarity. But these are areas where a common approach is relevant and productive. For example, Romania, like the UK, has lobbied in favour of energy liberalisation within Europe, and has already implemented unbundling for both electricity and gas. Both our countries, meanwhile, recognise the need to diversify both energy supply sources and transit routes.
This is an area ripe for co-operation between our countries - as is Romania's plans to liberalise its own energy sector, and realise its significant renewable resources in hydropower, biomass, wind, solar and geo-thermal energy.
UK companies have a wealth of expertise and are looking for inward investment opportunities here. They can offer everything from specialist engineering skills and environmental consultancy, to project management and advanced finance techniques.
On social and employment issues we are generally on the same side within the EU, both recognising the need to avoid stifling job creation by burdening employers with excessive regulation. This is particularly a problem for small companies for whom regulatory compliance makes up a much greater part of operating costs than for big companies. We also tend to see eye-to-eye on the regulation of financial services, and look forward to welcoming a team from Romania's regulators to London later this year.
Single Market
We can also harness the burgeoning partnership between our countries to bring a new sense of urgency on issues that have been left to drift for too long within the EU.
For example, we are still a long way from realising the full potential of the Single Market. Since 1992 it has created an estimated 2.75m extra jobs across the EU and increased EU GDP by over 2%. But we believe, and analysis shows that we could double these gains if we open markets further.
That means properly enforcing the single market legislation already agreed in the energy and services sectors - full implementation of the Services Directive, for example, could further increase EU GDP by around 3% or €340bn.
It also means establishing a single market in new areas, such as in digital technologies. I am pleased that Romania also views this as a priority.
Today, only a quarter of companies that trade online do so across borders because of the barriers in place. This cannot continue when the most innovative businesses operate either wholly or partially online.
For entrepreneurs in Romania, it is a way of accessing European markets without having to incur the costs of having physical operations in other countries.
The single market is too important for growth and productivity to delay any longer. We cannot wait for a grand bargain, where we construct a delicate deal on further market opening in exchange for concessions on tax and employment rights. We need the stimulus now, not in five years time.
Free Trade
Finishing the job on the Single Market will also give us a stronger hand to play in global trade talks.
Trade and exports drive growth, so we have to push hard for a conclusion to the Doha round - and that may mean the EU putting an improved offer on the table. Full implementation of Doha would be worth around €32bn to the EU economy [€133bn to global economy]. These figures are approximate but give a sense of the magnitude.
We also need to increase the range of Europe's Free Trade Agreements, and pursue ambitious deals with India, China, Japan, Mercosur and the ASEAN nations. Concluding all ongoing trade deals could add approximately €60bn to Europe's GDP.
Now, I recognise that there are political concerns over what free trade might mean for particular industries or sectors. But it's clear that the long-run benefits of sustainable growth will ultimately outweigh the costs that some domestic producers may experience in the short term.
A successful push on free trade within and outside of the EU would deliver substantial new benefits for the Romanian economy. Diversifying into new markets, and developing new trading relationships with Asian and South American countries, will provide a growth stimulus, reduce dependency on demand in Europe, and boost this country's resilience to future shocks.
EU regulation
But I recognise that, even with a sense of urgency, trade talks take time. So it's worth remembering that 60% of EU trade is between member states. If we made concerted efforts to nurture enterprise and scrap excessive business regulation it could bring swift results.
The EU has talked the language of better regulation for a few years now, but it has not been translated into action - especially for small businesses, which will drive the future growth and employment across the EU. They need less red tape, less bureaucracy and more freedom to innovate.
The Commission's own estimates suggest that reducing unnecessary administrative burdens by 25% by 2012, could boost EU GDP by 1.5%, or €150bn. This is within our gift to deliver.
It needs action at the national as well as the EU level. We have been cutting the time spent to set up a new business in the UK to less than two weeks.
I know Romania is one of the Member States that shares the UK's view on regulation, and is making its own efforts to reduce the burden of bureaucracy on business. This is an agenda which needs to be pursued at the EU level because of the cumbersome bureaucracy and form-filling which surrounds a lot of EU regulation. So I look forward to our two countries working closely in partnership in Brussels as we take this agenda forward.
When one considers that 99.8% of European enterprises are small businesses; they provide 67% of private sector jobs; and they generate more than half of European GDP - it is clear that concerted action on EU red tape, bureaucracy and over regulation is long overdue.
Conclusion
In Romania, as in the UK, new and small businesses will be an important engine of future economic growth. We need to set them free from existing rules stunting their growth, and screen all future proposals, so our companies are able to flourish.
The European Union must adapt so that, collectively, we are equipped to deal with the challenges and opportunities thrown up by an open and competitive global economy.
Our focus needs to be on trade and global competitiveness, on supporting start-ups and business expansion.
Romania has a major contribution to make, as one of the largest Member States, and as one of the newest with fresh experience of market liberalisation and reforms.
Britain stands ready to work with our partners in Romania, and across Europe, to achieve our common objectives - and bring growth, jobs and prosperity to both our countries.
**Notes to Editors
**BIS's online newsroom contains the latest press notices, speeches, as well as video and images for download. It also features an up to date list of BIS press office contacts. See http://www.bis.gov.uk/newsroom for more information.
Notes to Editors
Contact Information
Name BIS Press Office Job Title
Division COI Phone
Fax
Mobile
Email NDS.BIS@coi.gsi.gov.uk
Published 30 September 2011