News story
Vince Cable delivers funding boost for Liverpool pharma company
Redx Pharma has a conditional offer of £4.7 million to help fund an initial two-year pre-clinical phase of a five year research and development…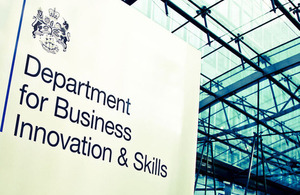 Redx Pharma has a conditional offer of £4.7 million to help fund an initial two-year pre-clinical phase of a five year research and development project. The project will deliver new treatments for microbial infection as well as anti-viral therapies for conditions such as influenza, hepatitis C and HIV for progression to human clinical trials.
The research will create 119 skilled jobs directly at the company within chemistry, biochemistry and analytical testing and a further 28 specialist jobs within the wider supply chain over its lifetime.
The Business Secretary was visiting to announce their round three offer as well as meet staff and see the progress from their round two project which received £5.9 million from the Regional Growth Fund to establish a state-of-the-art oncology centre.
Speaking at Redx Pharma, Vince Cable said:
"The Regional Growth Fund is creating the long-term growth and jobs that Liverpool and the North West needs. Every project supports important local priorities and there is a good alignment with key sectors in our Industrial Strategy including automotive, aerospace and life sciences as illustrated here today at Redx Pharma.
"Redx Pharma's previous award from round two has already helped them establish an impressive oncology research centre and has created over 50 new jobs since April this year. I look forward to seeing the progress of the vital drugs research that they are carrying out which will maintain the UK's competitiveness within the life sciences industry and deliver benefits for patients."
Dr Neil Murray, CEO from Redx Pharma said:
"We are delighted to have been awarded a second grant from the Regional Growth Fund. Their support is critical in enabling Redx to create a sustainable business and adapt to the rapidly-changing R&D landscape in the pharmaceutical industry. We have strong partners in Liverpool in the City, the NHS and the Universities and we look forward to working with them as we take our infectious disease business forwards.
"The World Health Organisation has identified drug resistance, particularly in the area of anti-biotics, as one of the most pressing human health concerns globally. We believe that the fresh thinking and original approach that we apply will create effective solutions, generating new therapies that will benefit patients worldwide."
The Secretary of State's visit comes ahead of the Government's announcement of the allocation of £1.05 billion funding from the third round of the Regional Growth Fund. The North West region has received £77million from round three of the fund, which will create and safeguard nearly 19,720 jobs in the area. This is on top of the 46 successful bids from rounds one and two of the fund, of which 32 have already started.
It was also announced that five of the round three bids linked to the pharmaceuticals sector have been selected with £17 million being awarded from the Government's Regional Growth Fund. This will unlock £80 million private investment by the sector.
**Notes to editors
**1) Redx Pharma develops research which promises patient benefits such as greater efficacy, fewer side effects or a different means of delivery for example, a pill rather than an injection. Redx Oncology started in April 2012 with a chemistry, biochemistry and analytical testing facility based at the Royal Liverpool University Hospital.
2) Nationally, the third round was highly competitive, with 130 projects and programmes being selected from 414 bids.
3) For a list of facts and figures by region as well as case studies please contact the BIS press office on 0207 215 5945.
4) The Regional Growth Fund (RGF) is a £2.4bn fund operating across England from 2011 to 2015. It supports projects and programmes that lever private sector investment to create economic growth and sustainable employment. More information on the Regional Growth Fund can be found here: http://www.bis.gov.uk/rgf
5) The Government's economic policy objective is to achieve 'strong, sustainable and balanced growth that is more evenly shared across the country and between industries.' It set four ambitions in the 'Plan for Growth' (PDF 1.7MB), published at Budget 2011:
• To create the most competitive tax system in the G20
• To make the UK the best place in Europe to start, finance and grow a business
• To encourage investment and exports as a route to a more balanced economy
• To create a more educated workforce that is the most flexible in Europe.
Work is underway across Government to achieve these ambitions, including progress on more than 250 measures as part of the Growth Review. Developing an Industrial Strategy gives new impetus to this work by providing businesses, investors and the public with more clarity about the long-term direction in which the Government wants the economy to travel.
6) BIS's online newsroom contains the latest press notices, speeches, as well as video and images for download. It also features an up to date list of BIS press office contacts. See http://www.bis.gov.uk/newsroom for more information.
Notes to Editors
Contact Information
Name BIS Press Office Job Title
Division Department for Business, Innovation & Skills Phone
Fax
Mobile
Email bispress.releases@bis.gsi.gov.uk
Name Ed Smith Job Title
Division Department for Business, Innovation and Skills Phone 020 7215 5945 Fax
Mobile
Email ed.smith@bis.gsi.gov.uk
Published 19 October 2012