News story
Vince Cable comments on Office of Fair Access's decisions on 2012-13 access agreements
"Progress over the past few years in securing fair access to the most selective universities has been inadequate. Only around 40 pupils out …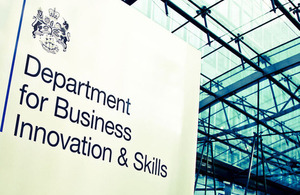 "Progress over the past few years in securing fair access to the most selective universities has been inadequate_._ Only around 40 pupils out of the 80,000 on free school meals currently make it to Oxbridge at the moment.
"The government therefore tasked OFFA with setting more demanding tests than in previous years. We are satisfied that universities and colleges are showing their determination to improve. Indeed, by 2015, we expect the sector's investment in access to be more than £600m.
"We will be monitoring performance on fair access closely every year to ensure we see tangible progress in opening the doors of our universities to the most disadvantaged."
Universities and Science Minister David Willetts went on to say:
"We told universities to be much more ambitious with their plans for attracting people from low income backgrounds in exchange for charging students more. This will result in a step change in social mobility with university investment in programmes such as summer schools, scholarships and fee waivers reaching more than £600 million annually by 2015.
"The majority of students will not be paying £9,000. No one should be put off going to university for financial reasons. No first time undergraduate will have to pay up front costs and there is a very generous package of financial support. Graduates will make lower monthly repayments than they do now."
Notes to editors
BIS's online newsroom contains the latest press notices, speeches, as well as video and images for download. It also features an up to date list of BIS press office contacts. See http://www.bis.gov.uk/newsroom for more information.
Notes to Editors
Contact Information
Name BIS Press Office Job Title
Division COI Phone
Fax
Mobile
Email NDS.BIS@coi.gsi.gov.uk
Name Emma Griffiths Job Title
Division Department for Business, Innovation and Skills Phone 020 7215 5982 Fax
Mobile
Published 12 July 2011