Press release
Vince Cable comments on GDP figures
Vince Cable comments on Q3 GDP figures released this morning (25 October 2013)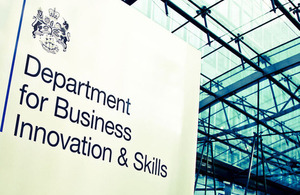 Commenting on Q3 GDP figures released this morning (25 October 2013), Business Secretary Vince Cable said:
We've always said the road to recovery would be a marathon, not a sprint. There is still work to do to address the lack of bank lending to SMEs and driving exports up to a globally competitive level. But today's figures are encouraging, especially for construction and manufacturing, which have been lagging. Taken alongside other indicators such as good employment figures and new businesses start-ups, they suggest that things are going in the right direction.
Notes for editors
1.The government's economic policy objective is to achieve 'strong, sustainable and balanced growth that is more evenly shared across the country and between industries'. It set 4 ambitions in the 'Plan for Growth', published at Budget 2011:
to create the most competitive tax system in the G20
to make the UK the best place in Europe to start, finance and grow a business
to encourage investment and exports as a route to a more balanced economy
to create a more educated workforce that is the most flexible in Europe
Work is underway across government to achieve these ambitions, including progress on more than 250 measures as part of the Growth Review. Developing an Industrial Strategy gives new impetus to this work by providing businesses, investors and the public with more clarity about the long-term direction in which the government wants the economy to travel.
Published 25 October 2013