Press release
Vince Cable comments on Funding for Lending changes
Vince Cable comments on changes to the Funding for Lending scheme announced by the Bank of England today (28 November 2013)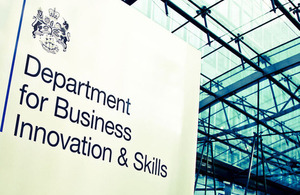 Commenting on changes to the Funding for Lending scheme announced by the Bank of England today (28 November 2013), Business Secretary Vince Cable said:
"The changes to the Funding for Lending scheme announced today are sensible and welcome. Small businesses continue to experience difficulties getting access to the finance they need to grow and bold action is needed. In my discussions with the Governor I urged a careful analysis of the impact of the Funding for Lending scheme because it is critical it supports growth in the productive economy, rather than simply stoke the housing market. It's vital now that the banks redouble their efforts to provide more lending to business, particularly to small business, to help secure the recovery, creating a stronger economy with sustainable well paid jobs across all regions of the UK."
Notes for editors
The government's economic policy objective is to achieve 'strong, sustainable and balanced growth that is more evenly shared across the country and between industries'. It set 4 ambitions in the 'Plan for Growth', published at Budget 2011:
to create the most competitive tax system in the G20
to make the UK the best place in Europe to start, finance and grow a business
to encourage investment and exports as a route to a more balanced economy
to create a more educated workforce that is the most flexible in Europe
Work is underway across government to achieve these ambitions, including progress on more than 250 measures as part of the Growth Review. Developing an Industrial Strategy gives new impetus to this work by providing businesses, investors and the public with more clarity about the long-term direction in which the government wants the economy to travel.
Published 28 November 2013