News story
Vince Cable appoints new Chief Executive for the Medical Research Council and reappoints the Chair
Announcing the appointment the Secretary of State said: "I am pleased to welcome Sir John Savill as the new Chief Executive of the Medical …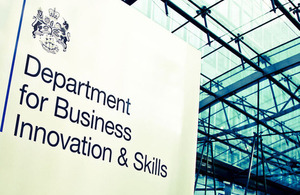 Announcing the appointment the Secretary of State said:
"I am pleased to welcome Sir John Savill as the new Chief Executive of the Medical Research Council. He has an excellent background as a clinician scientist and is highly regarded in the research and clinical academic communities. With his extensive experience in leadership roles he will be a great asset to the Council.
"As an important funder of medical research and high quality postgraduate training, the MRC has a crucial role to play in meeting some of the major challenges our country faces to improve people's health and wellbeing."
Sir John Savill said:
"I am thrilled to be joining the MRC at a time when there are such bright prospects for the UK to play a leading role in the international effort to beat disease through interdisciplinary discovery science. To ensure rapid translation into health and wealth gains, I look forward to working through the Office of Strategic Co-ordination for Health Research with the National Institute for Health Research, the devolved administrations and the Technology Strategy Board.
"By retaining a University base, I will remain grounded in the realities of medical research in which partnerships with charities, industry, patients and public are so important in developing research and research leaders for the future."
Sir John Chisholm, MRC Chair, said:
"As an academic, clinician and key strategic leader, Sir John Savill is a perfect choice to take the reins as our new Chief Executive. He will bring his expertise in science and policy along with him, helping the MRC build on its strong tradition of world class medical research that has a real impact on everyday health in the UK.
"As we head into a new era in our history, the MRC's ability to deliver economic and social benefits through our work will continue to take centre stage and I'm sure under Sir John's guidance, the MRC will go on to even greater strengths."
The appointment is for three years. Sir John Savill will take up post on 1 October 2010 as successor to Sir Leszek Borysiewicz.
Vince Cable also today announced the reappointment of Sir John Chisholm as Chair of the MRC.
---
Announcing the reappointment, the Secretary of State said:
"I am delighted that Sir John Chisholm has agreed to remain as Chair of the Medical Research Council for another term of appointment. He has contributed to the important work of the Council and will continue to play a key leadership role as the MRC's new Chief Executive takes up his position."
Sir John Chisholm said:
"I am delighted to be reappointed in my role as Chair and look forward to building on the MRC's achievements over the next two years. In the exciting and challenging time ahead, I look forward to working alongside Sir John Savill and all of the dedicated staff at the MRC to help tackle the major health challenges of the 21st century head on."
The reappointment is for two years from 1 October 2010.
Note to editors
---
Sir John Savill's appointment has been made following an open competition.

Before taking up the post of MRC Chief Executive, Sir John Savill was the first Vice-Principal and Head of the College of Medicine and Veterinary Medicine, University of Edinburgh, since 2002. Since 2008, he has also worked as the Chief Scientist for the Scottish Government Health Directorates (part-time). Sir John graduated in Physiological Sciences (Oxford) in 1978, in Medicine (Sheffield) in 1981 and received a PhD (London) in 1989. After junior hospital appointments in Sheffield, Nottingham and London, he spent seven years in the Department of Medicine at the Hammersmith Hospital. In 1993, he moved to the Chair of Medicine, Nottingham, and then in 1998 became Professor of Medicine, Edinburgh, where he was the first Director of the University of Edinburgh/MRC Centre for Inflammation Research. He was a member of the Medical Research Council from 2002 to 2008 and chaired two Research Boards during this period.

Sir John Savill will retain an ongoing, research-active involvement with the University of Edinburgh part-time (0.2 FTE).

Sir John Chisholm's reappointment has been made in accordance with the requirements of the Code of the Commissioner for Public Appointments.

Sir John became the Chairman of QinetiQ in 2005, after transitioning the company from a collection of Government owned research laboratories into a successfully international business which floated on the London Stock Exchange in February 2006. Prior to this he was UK Managing Director of Sema Group plc and subsequently a Director of CAP Group plc. In 1979 he founded and became Managing Director CAP Scientific Ltd, following a period of time spent at General Motors and Scicon Ltd, part of BP. Sir John was formerly President of the Institution of Engineering and Technology and was appointed Chairman of the Medical Research Council in October 2006. He is a Fellow of the Royal Academy of Engineering, the Royal Aeronautical Society and the Institute of Physics. A Cambridge graduate, he received a knighthood in 1999.

Sir John Chisholm has not been involved in any relevant political activities in the last five years. All appointments are made on merit and political activity plays no part in the selection process. However, in accordance with the Nolan recommendations there is a requirement for appointees' political activity to be made public. He holds one other Ministerial appointment. He is a Chair of the National Endowment for Science Technology and the Arts for which he is paid £26,000 pa. For the MRC Chair post he has waived his entitlement to an honorarium.

The MRC is a public body with a Royal Charter operating as an executive non-departmental public body accountable through the Director General Science and Research (DGSR) to the Secretary of State for Business, Innovation and Skills and the Minister for Universities and Science. MRC employs around 4,600 staff and spends around £700M a year to support research across the entire spectrum of medical sciences, in universities and hospitals, in its own units and institutes in the UK, and in its units in Africa.

For media enquiries only contact the BIS Press Office - Rachel Clarke on tel: 18002 020 7215 5945 or email: rachel.clarke@bis.gsi.gov.uk.

BIS' online newsroom contains the latest press notices, speeches, as well as video and images for download. It also features an up to date list of BIS press office contacts. See http://www.bis.gov.uk/newsroom for more information.
Notes to Editors
Contact Information
Name BIS Press Office Job Title
Division COI Phone
Fax
Mobile
Email NDS.BIS@coi.gsi.gov.uk
Published 30 July 2010