Vince Cable announces major investment in green technology
Business Secretary Vince Cable announced the start of a competition to form an Offshore Renewable Energy technology and innovation centre. The…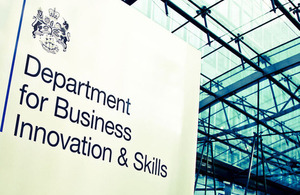 Business Secretary Vince Cable announced the start of a competition to form an Offshore Renewable Energy technology and innovation centre. The new centre will focus on technologies for offshore wind, wave and tidal power.
The Government has committed more than £200 million over the next four years to establish an elite network of at least six technology and innovation centres. The centres allow businesses to access equipment and expertise to help them commercialise new and emerging technology - and will help them capture a share of the global market.
Vince Cable said:
"The UK is a world leader in offshore engineering and our reputation makes us an excellent location for research in this area.
"In creating an Offshore Renewable Energy technology and innovation centre we are taking the next step to transforming the UK into a low carbon economy. There is a clear opportunity for the Government to support the UK's offshore industry and this centre will be of great benefit to the sector and the economy."
"The Government is committed to greening the economy - and despite the difficult financial challenges we face, we have already achieved a great amount, such as a vision for a Green Investment Bank and a commitment to world leading carbon reduction."
Universities and Science Minister David Willetts said:
"The Government's continued investment in technology and innovation centres ensure the UK stays at the forefront of global innovation and technology.
"It is vital we invest in renewable energy now to gain maximum benefits in the future. There is huge potential for growth in the sector, and the prospect to generate billions of pounds for the economy whilst creating thousands of job opportunities at the same time."
Chief Executive of the Technology Strategy Board Iain Gray said:
"Today's announcement of the Offshore Renewable Energy technology and innovation centre follows earlier announcements about centres in High Value Manufacturing and Cell Therapy.
"These centres will be a vital part of the UK's innovation landscape and enable world leading businesses to emerge in these areas.
"Our strategy published today highlights 10 possible areas from which a further three centres will be selected in the near future."
Vince Cable also announced today that £20 million will now be invested into two clean technology funds; Zouk Cleantech 2 and HG Capital Renewable Power Partners 2, as part of the £325 million UK Innovation Investment Fund (UKIIF).
The funds will support innovative businesses with high growth potential that are raising equity finance. The money will then flow into companies working on:
Alternative energy generation;
Renewable energy infrastructure including wind farms;
Energy efficiency; and
Water treatment and conservation.
Vince Cable said:
"The Government is committed to increasing investment in clean technologies to support innovation and growth. This funding provides the support to allow private sector industries to grow and for them to become more energy efficient. Transforming the UK into a low carbon economy is a great challenge, but one that we are taking seriously with investments such as this."
Note to editors:
The Technology Strategy Board is a business-led government body which works to create economic growth by ensuring that the UK is a global leader in innovation. Sponsored by the Department for Business, Innovation and Skills (BIS), the Technology Strategy Board brings together business, research and the public sector, supporting and accelerating the development of innovative products and services to meet market needs, tackle major societal challenges and help build the future economy.
The Technology Strategy Board was given responsibility by the Government for establishing and overseeing the network of centres. For more information visit the TSB website www.innovateuk.org.
Further announcements will be made about the remaining technology and innovation centres during the year.
Money from the UK Innovation Investment Fund (UKIIF) will create skilled jobs by focussing on growing innovative small businesses, start-ups and spin-outs. UK Government departments are investing £150 million to cornerstone UKIIF with £100 million from the Department of Business, Innovation and Skills, £25 million from the Department of Health and £25 million from the Department of Energy and Climate Change. The Government's investment has secured £175 million of private sector investment making it one of the largest technology funds in Europe.
According to figures from the Carbon Trust, the global offshore windmarket will grow by 10 per cent a year over the next 40 years and be worth up to £170 billion per year by 2050. The UK is predicted to capture a 12 per cent share of the global market, equating to around £215 billion turnover to the UK economy from 2010 - 2050.
Those organisation interested in running, being a part of or working with the new TIC can contact the TSB on 0300 321 4357 or email competitions@tsb.gov.uk.
The Government this week set out the vision for the Green Investment Bank (GIB). The GIB's mission will be to accelerate private sector investment in the UK's transition to a green economy. It will play a vital role in addressing market failures which are holding back private sector investment. Sectors likely to be eligible for intervention initially include offshore wind, non-domestic energy efficiency and waste.
For more information on the Technology Strategy Board, contact Chris Birdsall (Press Office) on 07824 606821.
BIS's online newsroom contains the latest press notices, speeches, as well as video and images for download. It also features an up to date list of BIS press office contacts. See [http://www.bis.gov.uk/newsroom](http://www.bis.gov.uk/newsroom) for more information.
Notes to Editors
Contact Information
Name BIS Press Office Job Title
Division COI Phone
Fax
Mobile
Email NDS.BIS@coi.gsi.gov.uk
Name Dan Palmer Job Title
Division Department for Business, Innovation and Skills Phone 020 7215 5303 Fax
Mobile
Published 26 May 2011