News story
Vince Cable addresses EU Parliament
Business Secretary Vince Cable delivered the keynote speech in Brussels today as the first UK Cabinet Minister to address the European Parliament.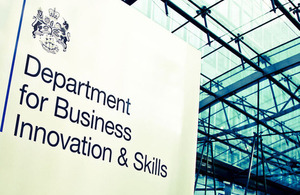 Addressing an audience of over 100 MEPs and invited parties from EU institutions, businesses and academia, Dr. Cable outlined how the Government believed positive engagement with the European Union was an essential part of the UK's economic and political relations.
"We all recognise that our economic fate is inextricably linked with the rest of Europe. We want Europe to work; to put aside all quarrels; and make common cause to deal with the massive economic problems which we now face."
Dr. Cable outlined the key issues that would be essential in restoring jobs and growth in Europe, including;
The important role that free trade and open markets will play, and to push forwards with the Doha agenda.
To recognise the value of flexible labour markets and the interests of those seeking to get back into work, stating that the UK was committed to retaining it's opt-out from the Working Time Directive.
The need for ambitious EU economic reform through a deeper and stronger EU Single Market; a more strategic approach to global trade; and a commitment to smarter regulation.
He also warned about any increase in the EU's budget and gross contributions, especially at a time when EU Member States are least able to afford it;
"At a time when national governments, including mine, are having to make very painful cuts in public spending, no one can understand why the European budget is not being subjected to the same discipline. There is a big backlash on the way, not only in the UK."
Links
Business Secretary Vince Cable's speech to the EU Parliament
Published 30 September 2010