Press release
Villiers welcomes Autumn Statement boost for Northern Ireland
The Secretary of State for Northern Ireland welcomes measures in Chancellor's Autumn Statement designed to benefit Northern Ireland.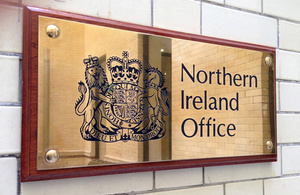 Welcoming the Chancellor's Autumn Statement today, the Secretary of State for Northern Ireland, Rt Hon Theresa Villiers, said:
"The Chancellor's Autumn Statement today takes further steps to repair the economic mess the Government inherited and equip the United Kingdom to succeed in the global race. It will help hard pressed families in Northern Ireland while providing a significant boost for jobs, investment and rebalancing the economy.
"We are continuing to take the necessary action to tackle our deficit and live within our means after a decade of irresponsible borrowing, debt and reckless spending. The Government has reduced the deficit by a quarter, helping us to keep borrowing costs low. That benefits every family and every business in Northern Ireland.
"Changes to personal allowances announced today will mean a tax cut for 615,000 people and take 8,000 out of tax altogether. In addition, those across Northern Ireland who rely on road transport will be helped by the Chancellor's decision to cancel January's planned fuel duty increase. This will save a typical driver over £40 a year and a haulier £1,200 a year.
"The Government's relentless focus is on rebalancing the economy and creating the conditions in which the private sector can grow. So the Chancellor announced that Corporation Tax will come down to 21 per cent by 2014 from the 28 per cent we inherited. Our corporate tax rates will be the lowest of any major western economy providing a significant boost for investment and growth. And we are continuing discussions on the case for devolving Corporation Tax to the Northern Ireland Executive.
"The Autumn Statement provides major additional capital spending to fund high- quality infrastructure in Northern Ireland. The Executive will benefit from an additional £132 million of capital funding. This will enable the Executive to determine its own priorities for capital spending including in relation to any 'shovel-ready' projects that they might wish to fund.
"We have also listened to some of the specific concerns of business in Northern Ireland. So the Chancellor has specifically exempted Northern Ireland electricity generators from the carbon price floor. This will put Northern Ireland's power generators on a level playing field with their competitors in the Republic of Ireland.
"And I am of course delighted that Derry-Londonderry will receive funding to make it one of the UK's super-connected cities – building on our already world class broadband infrastructure.
"Nobody doubts that we are in difficult economic times and that we continue to have to take tough decisions on spending. But to change course now, and return to the policies of more borrowing and more spending that got us into the mess in the first place, would be disastrous. It is a hard road but we are making progress to help those who work hard and want to get on to succeed."
Measures to benefit Northern Ireland include:
Personal Allowance increase to £9,440 - this change will benefit 615,000 people Northern Ireland, lifting an additional 8,000 people in Northern Ireland out of income tax altogether
fuel duty - cancelling the fuel duty rise planned for January 2013 will help the owners of the 1.1 million vehicles in Northern Ireland, saving a typical driver £40 per year
support for small businesses - Northern Ireland's 114,000 small businesses will benefit from a 'business bank' that brings together existing government finance plans and uses £1 billion to stimulate the market for long-term capital
small businesses in Northern Ireland will also benefit from increasing the Annual Investment Allowance limit from £25,000 to £250,000 for 2 years, as well as £25 million per year more for UK Trade and Investment's export support to small and medium-sized enterprises
science investment - the government has announced £600 million of capital funding for science and technology funding, on top of the £32 million successful funding bid for the Institute of Health Sciences at Queen's University Belfast
broadband investment - Derry/Londonderry will receive a share of £50 million government funding to deliver ultra-fast fixed broadband access and large areas of public wireless connectivity, subject to State Aid approval
Published 5 December 2012