Press release
Villiers welcomes announcement on Ulster Bank's future
The Secretary of State responds to RBS' commitment to continue operating across the island of Ireland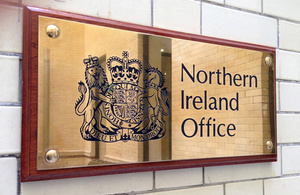 Rt Hon Theresa Villiers MP said:
RBS's continuing commitment to Ulster Bank and Northern Ireland will be welcomed.
Moving assets to the 'bad bank' draws a line under the past and the review looks to ensure Ulster Bank's place in the future. The restructuring announced today should give Ulster Bank a greater ability to lend, providing extra help to Northern Ireland business and the economy.
I have worked closely with Treasury colleagues to ensure the importance of this decision to Northern Ireland was clearly understood and properly considered. RBS's aim to become the best bank for small and medium sized enterprises throughout the UK is particularly welcome.
Published 1 November 2013